How Accidental Tuberculosis Virus Release Leads To Evacuation In America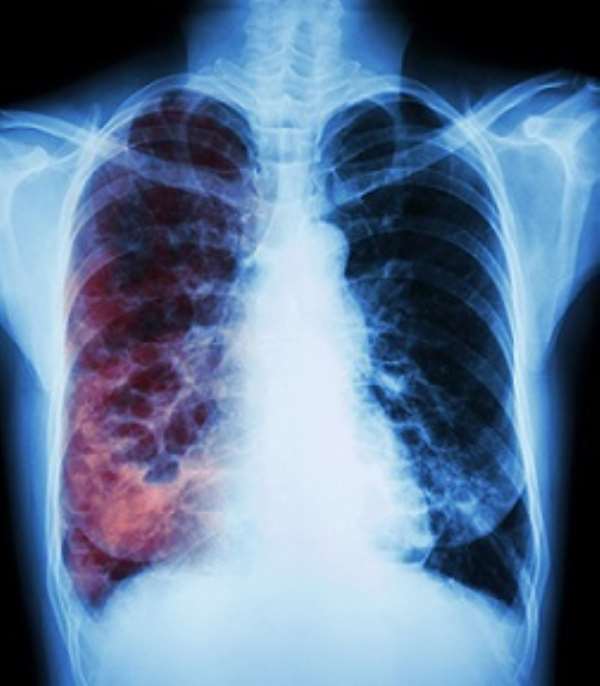 Image of chest X-ray of a patient with tuberculosis
Thousands of people in Africa don't read, therefore, they lack understanding certain medical crimes taking place clandestinely in the continent. Even though, some may understand what it means by 'deliberate infection,' they still don't know how those medical crimes are carried out.
For example, it's only a few people, including scientists that are aware that those viruses such as Aids, Lassa fever and, Ebola hemorrhage fever, are long created in laboratories decades ago by Russian, American, Belgium, and German Nazi scientists, and therefore are still available or stored in the laboratory.
In most of our articles, either written by me, scientist Johan Van Dongen or Dr. Wolff Geisler, on 'Secrets Of Aids And Ebola Facts Journal,' we have made it clear that since viruses, such as Aids and Ebola are still available and preserved in the laboratory, the world is always in danger.
For example, when any of the viruses accidentally get exposed or get into hands of terrorists that are going to be a medical catastrophe. That fear we had about the error that can trigger a medical genocide happened on Thursday, on July 5, 2018, at the Johns Hopkins Hospital, in Baltimore, Maryland, the United States of America.
The Johns Hopkins Hospital in Baltimore, Maryland reported that a small amount of the infectious germ, tuberculosis, one of the world's deadliest diseases, was potentially released in its facilities while being transported by accident, leading to the evacuation of several buildings.
However, the hospital officials now say no one is at risk of contracting the disease. That's what the hospital says but this is not the reason I wrote this article. The significance of this article supports our claims that viruses to destroy humanity and cause death are long created and stored in the laboratory.
If a small vial of a frozen sample of tuberculosis being dropped onto the floor after its lid falls off, leading to an evacuation, the same thing can happen or put the lives of Americans in danger if the US military scientists decide to transport an Ebola virus and use it on Africans.
This article also reveals how genuinely and truthful nature of our articles about the deliberate spread of tuberculosis in HIV and Aids patients. It is not medically written that HIV or Aids patients are prone to tuberculosis but without any significant medical reasons, thousands of HIV and Aids patients were diagnosed with tuberculosis in Third World Countries, especially in Asia and Africa.
The question is if articles we have indicated that Aids and Ebola viruses are available in the US laboratory and yet many people don't believe, will the tuberculosis incident which occurred just this week Thursday; educate the mind of the doubting Thomases? Who knows? It may likely be that they were transporting the infectious tuberculosis germ to Africa before the spill occurred. The US government never speaks the truth.
Because Africa is a continent due to the laziness and corruption of African leaders, European and American leaders that give Africa financial aid take the opportunity to inflict diseases in the population through contaminated vaccines and the planting of deadly viruses in the African jungles by foreign military scientists.
After the accidental spill, "the Baltimore City Fire and Rescue unit initiated hazmat protocols and, out of an abundance of caution, both research buildings were evacuated. Public safety officials, as well as infectious disease experts, have now cleared the buildings, and the evacuation has been lifted," a Johns Hopkins spokesperson told Gizmodo.
Another significant question is assuming this has happened in Africa, are African leaders prepared to tackle the situation? Tuberculosis, usually caused by the bacteria Mycobacterium tuberculosis, is one of the deadliest infectious diseases worldwide, infecting 10 million and killing at least 1.7 million people in 2016.
ModernGhana News Reference: Why Mass Tuberculosis-Infection Of People With Aids?
https://www.modernghana.com/news/866362/why-mass-tuberculosis-infection-of-people-with-aids.html
However, the great German doctor, Wolff Geisler has revealed in his book "Aids, Origin, Spread, And Healing," that the tuberculosis epidemic diagnosed in mass Aids patients were the deliberate infection.
The incidence which took place in Maryland reveals that the virus of the infectious tuberculosis germ is secretly kept in the United States of America, including that of Ebola and Aids.