Next African star at Wimbledon '10-20' years away, says Anderson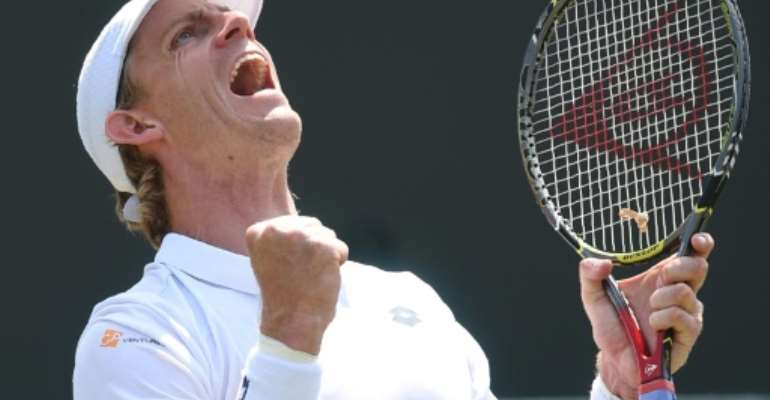 Kevin Anderson believes it could take "10-20" years before Africa produces another Grand Slam contender such as himself.
The big South African, ranked at eight in the world, reached the Wimbledon last 16 on Friday for the fourth time.
He has already struck a blow for the continent by becoming the first South African man in 33 years to reach a Grand Slam final when he finished runner-up to Rafael Nadal at the US Open last year.
However, the cupboard is bare otherwise.
He is the only South African man in the top 200.
The leading Egyptian is 27-year-old Mohammed Safwat ranked at 175, while Morocco's top man is Lamine Ouahab at 629.
That is particularly heartbreaking for the proud North African nation which in the 1990s boasted the likes of Younes El Aynaoui, who reached 14 in the world, Hicham Arazi, a former number 22, and Karim Alami who peaked at 25.
Alami even defeated the great Pete Sampras in his prime.
"I have been at the top of South African tennis for pretty much a decade now," said Anderson.
"I have always said my biggest hope is that players, especially junior players in South Africa, watch me on TV or wherever, I'm a sort of source of inspiration for them to pick up the game of tennis, to pursue it."
As always, the problem is money and lack of tournaments.
Africa stages just one ATP tournament each year, a low-key clay court event in Marrakech in April in the build-up to the French Open.
"In order to get exposure you have to travel to Europe, to the States. On the back of that comes financing," said Florida-based Anderson.
"Tennis is prohibitively expensive. I know for myself coming from a wealthier country of South Africa it was still very tough.
"I'd be surprised if in the next few years you'll see a whole crop of individuals coming up.
"You'll have to look at it in as a 10-, 20-year plan and hopefully in that period of time we'll start to see some more players coming through."
Anderson, 32, saw off Germany's Philipp Kohlschreiber 6-3, 7-5, 7-5 on Friday to set-up a last 16 clash with flamboyant Frenchman Gael Monfils on Monday.
Monfils is in the fourth round at Wimbledon for the first time, but holds a 5-0 career lead over Anderson, although they have never met on grass.
"It will be an interesting adjustment to see what happens," said Anderson.
"I feel like on other surfaces he does such a great job of retrieving, absorbing pace very well.
"He stands quite far back behind the baseline. I feel it's a little tougher to do on grass."