Electrical & Electronic students of Sunyani Technical University exhibit prowess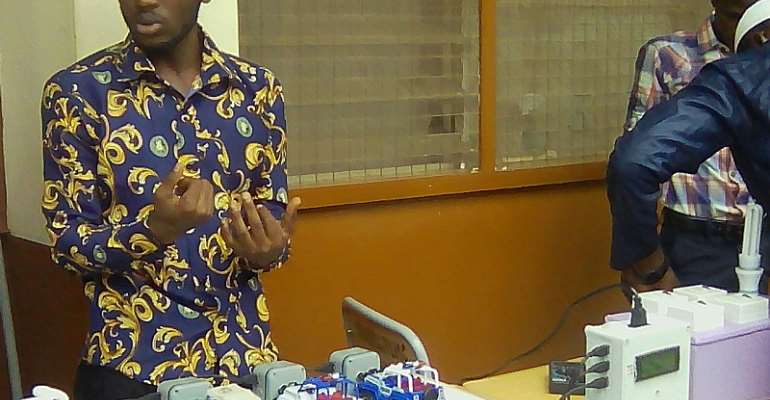 Students of the Electrical and Electronic Engineering Department of the Sunyani Technical University (STU) have held an exhibition show during which students demonstrated their prowess and finesse in their chosen field of study.
On display were prototype devices such as fire alert system, dual control street light system, security-door with Radio Frequency Identifier (RFID) reader, car-parking availability system, alcohol detector device, water level sensor and solar tracker, which helps to track the direction of the sun at any point in time.
The Fire Alert system, for instance, has been modified to swiftly respond to smoke or fire outbreak at homes and offices so that immediate actions could be taken to mitigate the impact of the fire while the Dual Control Street Light system has been carefully engineered with photocell and timer.
With the help of the photocell and timer, the Dual Control Street Light system automatically switches on and goes off at the desired and programmed time.
The Alcohol Detector device, when installed in a vehicles, prevents the car engine from starting if the driver is drunk or smells alcohol as it detects or senses alcohol.
This would go a long way to prevent road accidents in the country if this device gains the needed currency and acceptance by the general public.
Another device on display which secures both public and private buildings from burglary was the Security door with Radio Frequency Identifier (RFID) reader.
One would only have to swipe the door with a sensor to open, denying access to any unwanted person or group of persons.
Speaking to the Daily Statesman on the sidelines of the programme, the Vice Chancellor of the Sunyani Technical University, Prof. Ing. Kwadwo Adinkrah-Appiah said the university had signed Memoranda of Understanding with some institutions to assist the Electrical and Electronic Engineering students to broaden their horizon and possibly produce on large-scale.
"As a technical university, we're supposed to come out with inventions and innovations. We are supposed to have people from industry partner with us in order to be able to produce them on large scale but normally there challenges there but we are making efforts to reach industry…"
For his part, the Head of Department (HoD), Iddrisu Danlard observed that with the right mindset and support Africans could come out with innovative ways of solving their own challenges; and called for governmental and institutional support toward technological advancement.
He also advised people to "do away with negativities that Africans are not technologically inclined" adding that considering what the students had been able to do, there was no doubt that giving the needed assistance, Ghanaians could come out with various technologies critical for the country's socio-economic advancement.
"The fact that the students have been able to do these prototype devices means that they are capable of doing something. We just have to push them by investing in their talents and provide the right environment for them so that they could set up their own businesses and create jobs for themselves and others", he added.
Richard Kofi Boahen
Brong Ahafo Regional ContributorPage: RichardBoahen