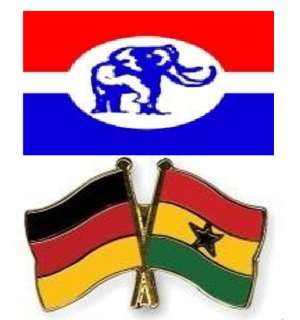 The Germany Branch of the New Patriotic Party (NPP-Germany) disassociates itself from a statement purporting to come from one Reverend Alex Acheampong which sought to endorse Mr Stephen Ayensu Ntim in the current NPP-Leadership race.
NPP-Germany wishes to put on record that Reverend Alex Acheampong is the Former Chairman and a contestant in the 17 March 2018 Branch Elections and NOT THE CHAIRMAN of NPP-
Consequently, a committee was set up to investigate and submit their findings to the Branch Secretary for onward transmission to the National Executive Committee in Germany. While these processes were still going on, Reverend Alex Acheampong, in blatant disregard for due process and established party structures, declared himself Chairman and went ahead to get himself sworn in by a Chapter Secretary without the knowledge of the other duly elected members of the NEC.
It will be recalled that the outcome of the Branch Elections in respect of the Chairmanship position was suspended by the Elections Committee following the discovery of several infractions and malpractices including over-voting, impersonation and multiple voting among others.
In view of the rancor and confusion occasioned by this act, the matter has been referred to the National Council in Ghana for adjudication and determination. Hence, it is factually inaccurate for Rev. Alex Acheampong to lay claim to the NPP-Germany Chairmanship position. We therefore caution Reverend Alex Acheampong to desist from holding himself out as Chairman of NPP-Germany because that amounts to fraudulent misrepresentation.
NPP Germany further wish to state that at an all-members meeting held to discuss the coming Annual Delegates Conference, it was unanimously agreed that NPP-Germany should throw its weight behind Mr Freddie Blay, Mr John Boadu and Mr Sammy Awuku. An official Press Statement duly signed by the Branch Secretary was issued to that effect.
We wish to assure party members and supporters in Germany that leadership remains focused and determined to work hard to ensure that NPP retains power in 2020 and beyond. This is our commitment to the party and we would not be detracted by some of these ugly noises that are bent on sowing seeds of discord and confusion in the Germany Branch of NPP.
Signed
Dr. Kwaku Anane-Gyinde
Branch Secretary
NPP-Germany