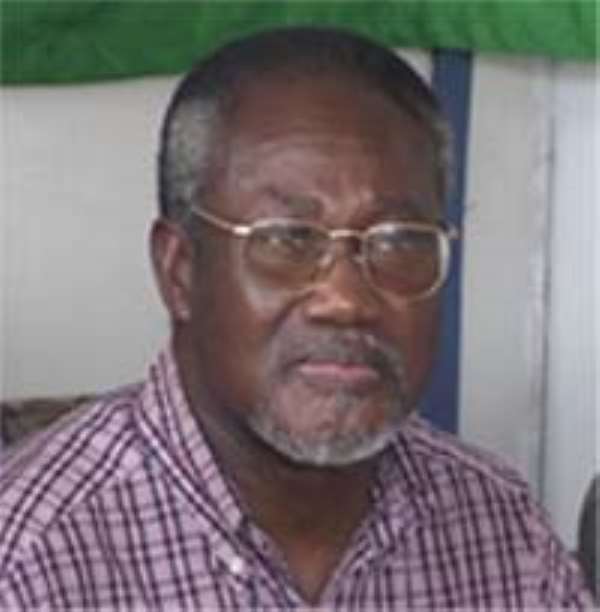 Intelligence work undertaken by the Statesman within the National Democratic Congress (NDC) has exposed an elaborate scheme by the party's National Chairman to first disable party founder Jerry Rawlings and ultimately to defeat the New Patriotic Party in December 2008.
Top on Obed Yao Asamoah's agenda is to stop the former president form influencing who leads the NDC into the do-or-die 2008 presidential race. Dr. Obed Asamoah has begun by working against plans by the Rawlings camp and the Ato-Ahwoi led so-called Fante Confederacy to have John Evans Atta Mills re-elected to lead the party for a third successive time. Aware of this, the Rawlings/Mills camp has put in place a counter plan to 'boot Obed out."
Beyond that, the party founder is bent on pulling the long knives against all those who are seen to be plotting against Rawlings, such as Bede Ziedeng, acting General Secretary, Frances Assiam, National Women's Organiser, Baba Jamal, Deputy General Secretary, Harruna Iddrisu, National Youth Organiser and Samuel Ofosu Ampofo, National organiser.
As confirmed by the Rawlings-sponsored national democrat this week, "The time has come for us to remove all the traitors in our midst (sic) and this, we shall do with all the force at our disposal." But our intelligence findings suggest that Mr. Rawlings has his work cut out. Dr. Obed Asamoah is miles ahead in his bid to maintain his position as national chairman. The Greater Accra constituency chairmen who were turning against their national chairmen are said to be turning back to him. In fact his position seems to have been strengthened by the ongoing verbal attacks on him.
The press release by the NDC confederation of constituency chairman impliedly confirmed this view. Their call to the "all purported pro-NDC newspapers to be circumspect in their reportage" exposed their unhappiness with the pro-Rawlings papers. The party chairman is not only a 'stop Mills' campaign, he is said by sources in the party to be pushing two candidates on a 'Stop NPP' campaign, too. However, a close source to Dr. Obed Asamoah has denied this, saying the chairman has no candidate but is nevertheless adamant that the twice-defeated former vice president is not a winnable candidate.
According to our findings, Dr. Asamoah sees the race for the NPP candidate to be realistically between two cabinet ministers: Nana Addo Dankwa Akufo-Addo, the MP for Abuakwa South and Yaw Osafo-Maafo, MP for Akim Oda. With that in mind, his party sources disclose, his two preferred candidates to match the NPP are Mohammed Ibn Chambas and PV Obeng. The thinking is that with Nana Akufo-Addo's charisma, intelligence, Danquah-Busia lineage and international exposure, the best credible candidate to contest him would be the Secretary General of ECOWAS and former deputy foreign minister under president Rawlings. The former Bimbilla MP is highly respected, and his northern and Moslem background can be exploited to reinforce the propaganda that the NPP is an Akan party.
Also, Ibn Chambas has built a cordial relationship with Nana Akufo-Addo, which could remove personal attacks from the race. But another rising prospect to succeed President Kufuor is minister of Education and Sports, Mr. Osafo Maafo has grown in stature. He is bright, articulate and hardworking. He is expected to ride mainly on two national feel-good factors, both generated by soccer. Ghana's imminent historic maiden participation in the 2006 World Cup and the hosting of the African Nation's cup in election year, 2008. The thinking of the Obed camp, according to sources, is that 'you can only counter like with like.' P.V Obeng, as Chairman of Kumasi Asante Kotoko is seen as a good counter to the former finance minister from Akyem. PV is also seen as possessing superior experience in politics. He is astute and carries a lot of respect and political weight respect. He is seen to be admired by many, especially women. With the NDC thinking that the Ga vote is almost in the bag, PV is seen as the man who can penetrate the high evergreen electoral forest of the NPP in the Ashanti region, particularly when, after President Kufuor, the ruling party is expected to reject an Ashanti candidates. However, a source close to PV has described this as 'ridiculous'.
The former Rawlings number two, from the PNDC days to the first NDC term is said to have communicated to his close pal, Obed, that he is not interested in leading the party. Also, he is said to be rigidly unwilling to compromise his disdain for his former boss, Rawlings. The statesman can reveal that barely two weeks ago an attempt to reconcile Rawlings and PV failed. Our sources have confirmed that PV was called to the house of former Speaker Justice D.F. Annan. Unknown to him beforehand, Rawlings was also invited to the house for the undisclosed discussion. Upon seeing Rawlings, P.V is said to have said to his host that he had no time for 'this man', pointing disdainfully at Rawlings. He walked out into the night, leaving behind a clear message that the conflict between the two former colleagues, as far as PV was concerned was irreconcilable.
The NDC has scheduled the elections of party executives for December 2005. The contest for the Women's and Youth positions will take place at Bolgatanga on December 3. The contest for all other positions, including national chairman will take place at Tamale from December 16-18. Statesman