Aayalolo Drivers' Strike Surprising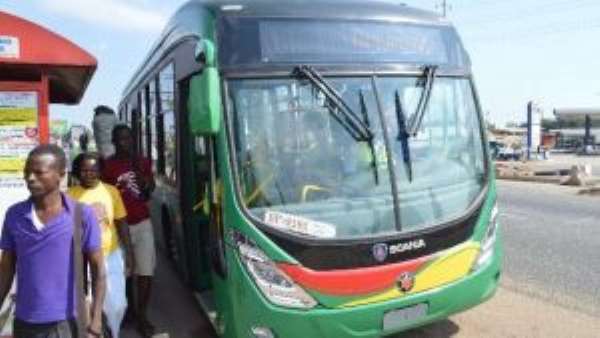 The Management of the Greater Accra Passenger Transport Executive (GAPTE), operators of the intra-city transport service, Ayalolo, has expressed shock at the decision of its drivers to declare a sit-down strike .
The management said the concerns of the drivers which formed their basis for the declaration of the industrial action had been sent to the National Labour Commission for a determination.
The drivers on Tuesday declared an indefinite sit-down strike to protest what they say is their deplorable conditions of service.
They said they had not been paid for the past five months.
But Communications Manager at GAPTE, Fred Chidi, in an interview on Eyewitness News said the strike is uncalled for as the workers had earlier reported the matter to the National Labour Commission for a determination.
As we speak, the NLC has intervened in the matter and the situation is in arbitration right now. It is interesting that it is the workers' group which reported this matter to the National Labour Commission and the Commission has taken over the matter. The whole of June we've been in arbitration over this matter. So we were surprised when the drivers refused to work because we would have thought that we would have gone through the process and the labour commission would have ruled on the matter and we'll see the way forward, so it was quite surprising to us.
Having been touted initially as the Bus Rapid Transit (BRT), the QBS was rather introduced, following the inability of the government to provide dedicated lanes for the buses which had been a major selling point of the BRT.
It was revealed in July 2017 that after eight months of operation in the capital, the managers of the transport service were still making losses .
Meanwhile, the National Labour Commission has directed the aggrieved drivers to call off the strike and resume work immediately.
The Commission also directed that the workers appear before it tomorrow, for deliberations on the issues.
In an urgent letter signed on Tuesday by the Commission's Director of Administration and Human Resources, Dr. Bernice Welbeck, and addressed to the Interim Management and workers of the company, the Commission confirmed that the concerns are currently before it for resolution.
It however says it is surprised about the workers' decision to strike since it had earlier directed the parties to submit their issues in dispute.