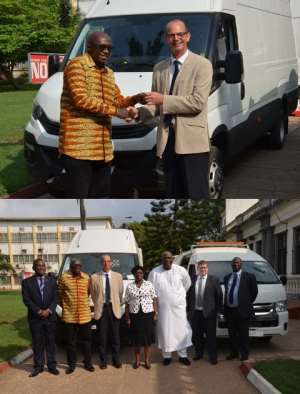 The United Kingdom Border Force Unit, has handed over two operational vans and equipment valued at $120,000 Dollars to the Narcotic Control Board (NACOB) to boost Ghana's fight against drug trafficking.
Of the two vehicles, one has a special toilet facility, which suspects arrested could expel drugs they have ingested while the other is fitted with tools for field work.
Mr Matt Beckhingham Assistant Director of UK Border Force said the support formed part of the organisation's international cooperation with the country in the fight against illicit drugs.
He said the equipment would help strengthen the effort of both countries to reduce activities of drug traffickers.
Mr Ambrose Dery, the Minister of Interior, who received the donation thanked the UK government and said the support would greatly enhanced the operations of NACOB especially with the opening of the country's borders.
He said government would continue to explore avenues to resource the NACOB to effectively deliver on its mandate.
Mr Francis Torkornoo, Executive Secretary of NACOB, assured the maintenance of the equipment and ensure it served its intended purpose.
NACOB is an agency under the Ministry of Interior, was established in November, 1990 as the central coordinating body for dealing with drug abuses in the country and the threatening dimensions that illicit drug trafficking, had taken globally, sub-regionally and nationally.