Brain drain is a scare to health care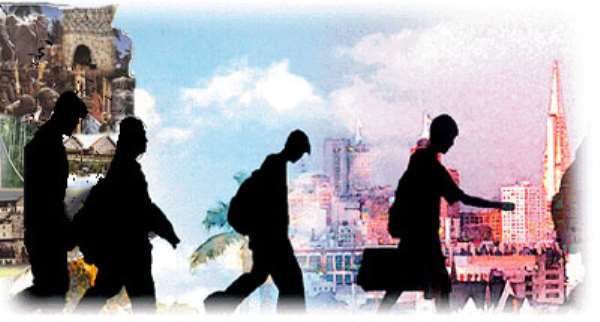 Accra, Sept. 20, GNA - Mr Samuel Owusu-Agyei, Deputy Minister of Health, on Tuesday said the brain drain in the health sector had taken centre stage in the assessment of the sector and indications were that it effects were creating doubts about the sector's capacity to offer decent health care.
"Particularly for us in the West Africa Sub Region, the problem seems to be growing in the face of increasing demand for health care." The Minister said this at the Fifth Ordinary Meeting of Health Administrators and the West African Postgraduate Medical Colleges in Accra, on Tuesday.
Participants attending the two-day meeting organised by the West African Health Organisation (WAHO), will deliberate on the training and retention of health professionals among other issues, in the sub region. Mr Owusu-Agyei said the situation was very worrying and commended WAHO for making it a priority on its Agenda adding: "At the end of this meeting, our effort to meet the human resource demand for health care in the sub region will be enhanced by your decisions".
He noted that it was unfortunate that major concerns in the public health had been of such dimension that specialist care had not accorded the eminent and rightful place in the planning and implementation of health sector programmes.
Ghana, he said, had since the inception of reforms in the health sector realised the genuine need for an improved quality and volume of tertiary health care support in order to meet all the objectives set in the medium term.
One of Ghana's major strategies was to rehabilitate the physical infrastructure of it teaching and regional hospitals and to institute formal and informal in-service training schemes for both clinical and management staff, adding, however, that "we are yet to see results especially as it relates to skills availability outside the urban areas. He called for the harmonisation of regional resources to solve peculiar problems, especially in areas where expertise and excellence like the Cardio Thoracic Centre were developed for the whole of West Africa.
Mr Owusu-Agyei said there was the need for serious search of a truly African approach to training and human resource development to fully realise the benefits of local and sub regional colleges. Ms Salimata Abdul-Salam, Acting Chief Director of the Ministry of Health said meetings of such nature often pursued scientific excellence to the detriment of non-health determinants and asked participants to examine the issue of training and other issues, which impede the ultimate use of existing resources.
Mr Kabba Joiner, Director General, WAHO bemoaned the problem of brain drain and said a code of conduct would be put in place for the recruitment and compensation to serve as a check. A minute's silence was observed in memory of the three Ghanaian urologists at the Korle Bu Teaching Hospital who died in a motor accident a few weeks ago. 20 Sept. 05