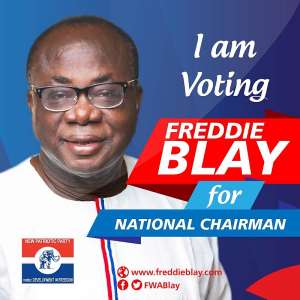 A leading member of Ellembelle NPP Communications team in the Western Region, Ishmael Avo Miezah has refuted media reports suggesting that the Acting National Chairman of the party is a traitor and corrupt.
The Communicator's statement was in a reaction to a news publication which has been gone viral on social media by one NPP polling station executive member from Esiama in the Ellembelle District that Freddie Blay is a traitor and corrupt and doesn't deserve to be voted for as the party's National Chairman.
Mr. Ishmael Avo who is also the member of the NPP Western Regional Communication team told ModernGhana.com Western Regional Correspondent that Freddie Blay is not a traitor and corrupt.
He revealed that Freddie Blay bought the mini busses for the 275 constituencies for a commercial activities with bank loans and not from the government coffers.
He, therefore, demand Isaac Afful to produce concrete evidence to expose Freddie Blay that he is a corrupt.
He added that the statement was not written by Isaac Afull but under the watch the Ellembelle District Chief Executive (DCE), Francis Kwasi Bonzoh.
Mr. Avo has therefore given Ellembelle DCE twenty-four (24) hours ultimatum to condemn the statement if he is not behind it.
He, however admonished that the Ellembelle DCE and his four Executives in the constituency have the right to campaign for Stephen Ntim but urged them to do a clean campaign devoid of political acrimony and personal attacks.
He is optimistic that Freddie Blay will be emerged victorious in the chairmanship race coming July 7th in Koforidua.
He used the opportunity to call on Freddie Blay's sympathizers, supporters and all delegates across the country to remain resolute and calm and disregard the statement from Ellembelle DCE's boys as malicious, mischievous, false and personal hatred.
"Daniel Kaku, let me tell you, this boy called Afful was the same person who was used as a conduit by the hon DCE to insult President Akufo-Addo and all Paramount Chiefs in Western Region tagging them as Mischievous and often in parochial interest that is transportation from the president and not thinking about development of area, and this boy too is on suspension as a polling station executive member at Esiama so people shouldn't take him serious at all, he has been paid to attack Freddie Blay but their agenda will not wash", he emphasized.
According to him, Freddie Blay is not against any NPP member from Esiama because it was same Freddie Blay who grown Ellembelle DCE, Kwasi Bonzoh to this stage.
The NPP had earlier fixed June 17, 2018, as the date for the National Delegates Congress to be held in Koforidua, the Eastern Regional capital, but because it will coincide with the celebration of the Muslim Festival of Id-il- Fitri, the election has been rescheduled for July 7, 2018.
The positions that would be contested are Chairman, 1st Vice, 2nd Vice, General Secretary Deputy Secretary, Organiser, Women Organiser, Youth Organiser, Treasurer and Nassara Coordinator.
A five-member National Elections Committee, comprising Rev. Prof. Samuel Asante-Antwi as the Chairman, Hackman Owusu-Agyemang, Madam Agnes Okudzeto, a former National Third Vice Chairperson, Ursula Owusu-Ekuful, the MP for Ablekuma West and Evans Nimako, the Acting Director of Research and Elections, has been put in place to oversee the conduct of the NPP national elections.
Signed!
Ishmael Avo Miezah
Communication team member Ellembelle constituency
Tell: 0543250281