NEIP Joins AFED As A Strategic Partner To Support Business Growth In Africa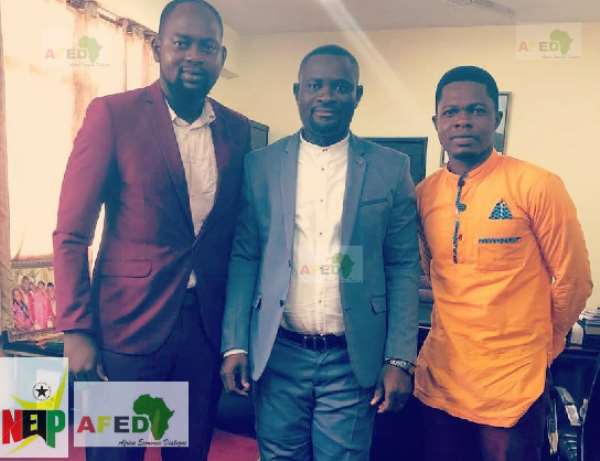 Africa Economic Dialogue (AFED) is an annual and undoubtedly the largest gathering of entrepreneurs in Africa that will serve as an advocating tool to influence policies that directly and indirectly affect young businesses in African countries. AFED is the leading voice of business in Africa, with the agenda of creating and sustaining a favorable business environment in which all businesses in Africa can grow and prosper.
On 28th June , 2018 , The Founding President and the 1st Vice President of The Africa Economic Dialogue ; Justice Offei Jr and Abdul Rashid Lamptey respectfully held a close door meeting with the CEO of NEIP (National Entrepreneurship & Innovation Plan) upon a visit to Lawyer John Ampontuah Kumah over a possibility of having NEIP as a Strategic Partner to AFED.
Lawyer John Kumah in his assertion and approval of the Partnership admitted that there is a strong need for such advocacy to support and promote business growth and for that matter a worthy cause for him to support. He admonished the leadership of AFED to stand firm and focus in order to achieve this inspiring vision. Justice Offei and Abdul Rashid was so much confident that this partnership will go a long way in shaping and inspiring the growth of businesses in Ghana.
As part of the partnership , AFED also pledged to support the NEIP in all its entrepreneurial Initiatives and Projects ; ensuring proper informed advocacy of the impact of such projects in the Ghanaian economy.
This partnership also open more doors for AFED to attract reliable and credible funding and sponsorship for its core activities in Ghana , Africa and the world.
The maiden forum AFED 2018, is poised to take place in Ghana on the 8thSeptember, 2018 at Accra City Hotel; summoning all young active entrepreneurs at one venue sandwiched with Think tanks, Seasonal radio and TV personalities, industrial & business stakeholders and policy makers. As part of the forum, a day will be dedicated for ENTREPRENEURS WALK on the principal route to the House of Parliament to humbly submit and petition our Position Paper on key Policies that need to be enacted and /or review to promote business growth.
AFED holds a strong belief, and that is economies are built on strong local enterprises. Across Europe, indigenous businesses have done the magic of building a resilient economy that has actually penetrated into the markets of African continents.African businesses especially the start-ups can outperform and compete beyond the boundaries of Africa if the right policies and regulatory environment are enacted.
This is the gaping void AFED seeks to fill and with a strategic advocacy and endorsement from entrepreneurs, our economy will grow with increasing business confidence.
Kindly visit the AFED or Apreneur website and register for free and be part of the over 100 participating entrepreneurs across Africa dialoguing on key challenges that confront local businesses; www.africaeconomicdialogue.com or www.aprenuer.com/afed