Providing Quality And Holistic Education: Vilac Int. School Sets The Pace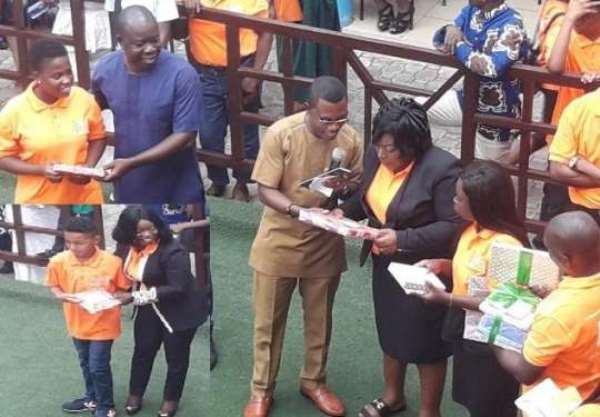 Vilac International School, a private international school has held its 10th Anniversary and Graduation for its Pre-school and high school with 54 students graduating to second cycle institutions with the rest pursuing its International programmes.
The school offers a curriculum modelled alongside the Ghana Education Service (GES) and the Cambridge International Examination, IGCSE and GCE Advance level with English language its medium of instruction on its campuses.
Its pre-school department curriculum is based on the Montessori Plus system striving to facilitate the physical, intellectual, linguistic, emotional and social development of its pupils to their full potential in the most stimulating and creative way, in an environment that promotes joy, respect and peace.
Mrs Eunice Agyei Wiredu, the Principal of the Pre-school said the school's vision is to become a leading educational institution renowned locally and globally for both academic and moral excellence.
She said the school prides itself with the state of the art facilities to ensure that students received the best learning experience, adding that, her outfit provided quality and holistic educational services to children from six months to 18years.
Mrs Wiredu said Vilac International School is accredited by the University of Cambridge International Examination and the GES and currently home to 420 students from 20 different countries.
'Until 2012, Vilac was the only school which running both Ghanaian and Cambridge curricular examinations'.
She, however, mentioned finances as one of the major challenge facing the school, especially, the inability of some parents to pay their wards fees and put the blame on the country's economic circumstances, adding that, 'Vilac has some measures in place to help curb such issues of concern.'
Mrs Catherine Agyapomaa Appiah-Pinkrah, Director Pre-Tertiary at the Ministry of Education announced government's plans to improve on existing standards for both private and public institutions in the country.
She said the Ministry was collaborating with the private schools to pull resources in terms of experiences and ideas together improve on the quality of teaching and learning in school.
Mrs Appiah-Pinkrah also reiterated the Ministry's commitment to ensure that majority of students enrolled into the universities and technical colleges available in the country, hence, their quest for free basic education.''
'I congratulate the school for how far you have come as a school'.
The school at the ceremony awarded 100 students and 30 teachers at all the various stages of the school.