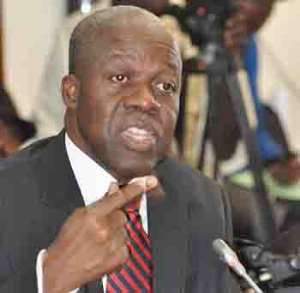 Former Vice President Paa Kwesi Amissah-Arthur
To start with, I extend my heartfelt condolences to the bereaved family of the late former Vice President Paa Kwesi Amissah-Arthur whose sudden death occurred on Friday, 29 June 2018. He was a calm gentleman who in the face of all odds, lived above reproach and went about his delivery of service to his country and people with the requisite meticulous statesmanship. Unlike most of his political colleagues who were deeply involved in, and infatuated with, perceived acts of corruption, Mr Amissah-Arthur conspicuously stood apart as a squeaky-clean individual without any blemish.
Even though it is the standing norm not to say anything bad about the dead irrespective of the person having lived a life worthy of condemnation but not congratulation and emulation, I would have told the truth as it is if he had misbehaved and proved himself a misfit in his position and service to the nation. However, he was a man who never joined his other colleagues who were in politics only to acquire material wealth through any foul means available to them. He was indeed a man who lived an exemplary life worthy of congratulation and emulation.
What lessons are we going to learn from his untimely demise and how it happened? I will use one stone to kill not only one or two birds but three. Firstly, I have extended my deepest condolences to his bereaved family, especially his wife, Mrs Matilda Amissah-Arthur, the children, and his parents.
Secondly, I shall advise and suggest to my fellow Ghanaians and any interested person as follows. At a certain age, especially when you are a grown up of sixty and above years, you have to be extremely careful when doing a workout (a structured regime of physical exercise). The exercise could be outside in the open like running, playing football or indoors in your house or in the gymnasium. The older you become, the weaker your strength, that is, body, heart and muscles hence can no longer withstand certain strenuous exercises or pressures. Therefore, at that advanced age, it is only prudent to moderate the exercises that one does.
Mr Paa Kwesi Arthur-Amissah is said to have collapsed while in the gym.
For medical conditions, one may be recommended to do brisk exercises, especially when one is diabetic and needs to prevent or regulate the high blood sugar in their body. The underlying web link from the Express Newspaper elaborates the exercises I am trying to highlight to the public.
https://www.express.co.uk/life-style/health/981602/diabetes-type-2-high-blood-sugar-symptoms-best-exercise
However, in the course of exercising, should you feel any pain, please, do discontinue with the exercise. If you have decided to do say, thirty minutes running or jogging on the treadmill but ten minutes into it you begin to feel sharp pains in any part of your body, please simply end the exercise. I am speaking from experience and how I had often felt when on the treadmill. One should please not be a gymnastic freak at the expense of their health. This is not to suggest that the late Vice President Amissah-Arthur did something wrong. No, far from it.
Thirdly, our modern day doomsayers in the cloak of prophets should not in pursuant of cheap popularity jump to proclaim that they prophesised one's death and it has happened. It is not any prophesy but just conditional predictions that they often make. The earlier they stopped that, much the better for the whole nation. If they are prophets or pastors who worth their salt, they had better secretly approach the persons they have revelations about to tell them in private what they have seen about them rather than going on air or announcing such revelations or predictions in their churches. Ghanaians should stop following these prophets who are becoming a blemish on the intelligence and image of Ghanaians and mother Ghana.
Finally, I say, Damirefa due; due, due ne aminehune, Owura Paa Kwesi Amissah-Arthur. Onyame nfa wo kraa nsie yie. Amen!
Rockson Adofo