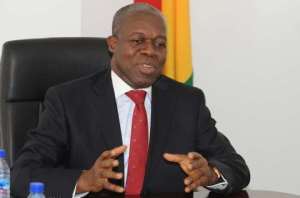 Ghanaians home and abroad woke up to the horrific news about the demise of Honorable Amissah Arthur, former Vice President under President John Dramani Mahama's government which saw Ghana under go tremendous infrastructural development projects many of which the NPP Government has shamefully tried to turn a blind eye to , just because they don't wish to acknowledge the great works of the NDC Government.
Our hearts goes out to the Amissah Arthur family and friends and the entire NDC family. Ghana has indeed lost one of its finest gentlemen with a heart of gold and great sense of civic duty towards the development of our great nation and its people.
Information reaching Ghanaians across the various media houses /social media was that our late Vice President Amissah-Arthur was at the GYM this morning when he felt unwell, and was rushed to the Hospital and after 30minutes he was dead.
Ghanaians in the diaspora would like to know the following -:
* Was the Gym cordoned off for further Forensics to be undertaken to rule out foul play ?? IF NOT WHY NOT ???
This is because some speculative insinuation indicates that the removal of the EC boss , Anas Expose and Kennedy Agyapong's ranting spree were all a calculative move by the NPP government, to throw public opinions in disarray in regard to the sacking of Charlotte Osei, and to push the agenda of creating additional six (6) more regions for a small country like Ghana. So Ghanaians demand that a proper investigation is done on the circumstances that led to Honorable Kwesi Amissah-Arthur demise.
NDC Holland along with all ghanaians based in the Netherlands wishes the entire Amissah-Arthur family our sincere condolences and hope the Ambassador would be Ghanaian enough to open a book of condolence for Ghanaians to pay their respect.
Long Live Ghana . EYE ZU
Frank Bonney
NDC HOLLAND