June 30, 2018
|
Social News
17 Drums Of Fuel Impounded At Bui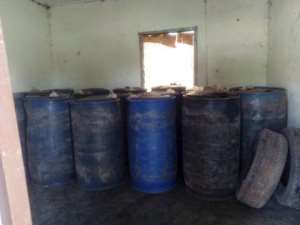 The Operation Oasis Team at the Bui Power Project catchment area has impounded 17 drums of petrol and diesel suspected to be smuggling to a galamsey site at Dokokyina near Bui.
Lieutenant Emilio Okyere Dadzie , a Navy Detached Commander told journalists at a press conference attended by the chiefs and people in the community at Bui in the in the Banda District of Brong-Ahafo Region.
He said at about 0900 hours on Tuesday June 26, the Team, comprising the Police, Navy and the Army stationed at the Bui catchment area to check illegal activities around the Bui Project, went to the landing site at Bongase in the District as part of their normal dam patrols to ensure safety.
Lieutenant Dadzie said the Navy Detachment, spotted 17 drums packed at the shore of the Black Volta River, ready to be loaded into a boat to transport to Dokokyina.
He explained that the team became suspicious and when inquired, the transporters said they were premix fuel for the fisher folks along the banks of the lake.
Upon further checks, it was proved they were petrol and diesel and not premix fuel as it was indicated.
The transporters could neither tell the team about the owners and destinations of the items nor provide them with any information that could lead to the arrest of the dealers and those around also denied ownership, Lieutenant Dadzie added.
He said the team therefore impounded the fuel, which had since been kept at the navy store room, adding that, the team was waiting for the dealers to surrender for the necessary sanctions to be taken against them or the fuel would be confiscated to the State.
Lieutenant Dadzie assured them that the Security Services had been in the area since 2015 and would continue to provide security not only for the well-being of the people but also to protect the Bui Power Project to prevent illegal lumbering and fishing activities and settlement around the Dam catchment area
On illegal galamsey operation in the area , Lieutenant Dadzie said in February this year the Team in collaboration with the Operation Vanguard personnel went to Dokokyina area and burnt operational items of the operators and drove them away.
He stated that information reaching the team indicated that the galamsey operators had re-organised themselves and were springing up at Dokokyina but the Detachment was monitoring their activities along the landing beaches where logistics were transported to the villages and settlements along the banks of the lake and the galamsey site.
Captain Thomas Hinneh Asamoah, the Army Commander in the team said they were only to accomplish the task of stopping all illegal activities around the Bui Dam catchment area and urged the people to only engage in legitimate businesses so that they would all live peacefully in the area.
He said a major challenge of the team was how to reach the other side of the lake, particularly Dokotena to prevent people from engaging in illegal activities.
GNA
By Regina Benneh, GNA