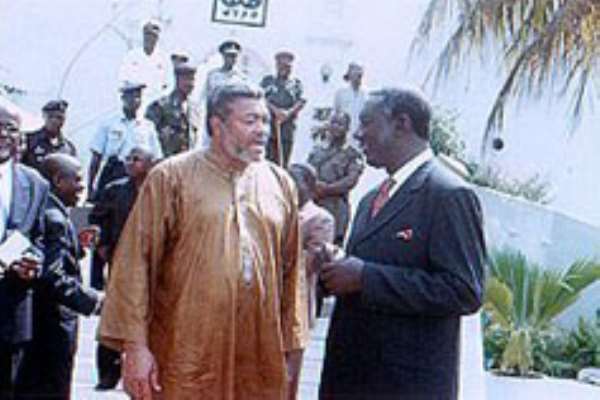 Dean calls for establishment of code of ethic against insulting Presidents Winneba (C/R) Sept. 19 GNA- Dr. James Flolu, a Dean of the University of Education, Winneba (UEW) has stressed the need for the establishment of a proper code of ethics to make it an offence for anyone to abuse the President and also an offence for the President to insult the citizens. Dr. Flolu said this would help protect "our national integrity and international reputation, hold in high esteem our heritage and defend the good name of Ghana." Dr. Flolu said this in a lecture he delivered at the celebration of the Deans Day of the University of Education Winneba under the theme: "meeting the socio-cultural challenges of the 21st century" at the Central campus of the University. Speaking on the topic culture in Ghanaian Education, from the present to the past, Dr.Flolu said anybody who insults the President, dead or alive, former or present is insulting the nation and this must not be tolerated. "We can determine the goodness or badness of a government by the extent to which a particular President, dead or alive, former or present, demonstrates respect for the citizens of the country, as according to tradition the chief or king must not insult his subjects but rather show respect for them." Dr. Flolu said, among the various ethnic communities in Ghana, it is a grievous offence to insult the chief as the chief is considered the people and wondered how people insulting the Presidents are supported as exercising their democratic right and freedom of speech. The Dean also called for the inculcation of the spirit of patriotism, and nationalism and ethnic solidarity among Ghanaians, especially the youth, who are the most active and energetic of the population of the society.
Dr. Flolu suggested that for the national anthem and pledge, to have the desired impact on citizens of the country their singing and recitation should go beyond the primary school.
He said the words in the national anthem and pledge are not comprehensible by the little kids and therefore said that they should be used at all public institutions and gathering for Ghanaians to soberly reflect on the values in them.
He said the National Anthem and National pledge are to remind Ghanaians of their national values and reinforce their commitment to the promotion of national unity and peace through the practice of democratic principles.