Former President Kufuor Hails Asili Coffee Project in Akuapem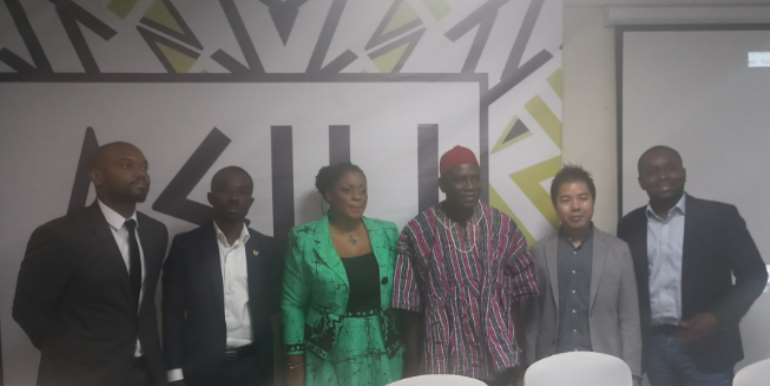 Former President John Agyekum Kufuor and the Chiefs and people of Akropong-Akuapem have eulogized Asili Coffee Purveyors, a small trading and processing company based in Akuapem with the aim of creating jobs for the teeming youth.
Speaking at a ceremony to launch Asili Coffee, the former President said it is sad that Ivory Coast which used to pick lessons from Ghana has now become the largest producer of cocoa and coffee in the world.
According to him, it gladdens his heart that a young Ghanaian entrepreneur has taken the bold initiative to venture into this highly difficult productive sector.
He indicated that through Asili, Ghana will experience a reawakening of the potentials of coffee from what it used to be in the olden days.
Former President Kufuor said it is a great initiative and further urged Government to offer some support by creating the atmosphere for young entrepreneurs to create wealth for others to benefit.
Deputy Local Government Minister in Charge of Rural Economy and Agriculture, Hon. Augustine Collins Ntim noted that the MLGRD in collaboration with Ministry of Food and Agriculture and the secretariat of IDIF rolled out a national tree crop program dubbed "Planting for Export and Rural Development (PERD)" to compliment the Planting for Food and Jobs (PFJ) initiative.
He added that the PERD programme seeks to develop eight commodity value chains namely Cashew, Coffee, Cotton, Coconut, Citrus, Oil Palm, Mangoes and Shea through a decentralised system.
This effort, according to him, is expected to create jobs for the youth, mitigate the effects of climate change, increase household income in the rural areas and establish a sustainable raw material base to spur up the decentralized industrialisation drive through One District Factory initiative.
The sector minister indicated that the PERD Programme identifies all actors in each of the commodity value chains and initiate processes towards the value chain reinforcement objective.
"I am proud and happy to inform you that out of the eight commodity value chains under the programme, formalization of the coffee industry has been successful. This we recognize the contribution of Asili Company towards this success," he stated.
Hon. Collins Ntim emphasized that the programme has been able to facilitate the formation of the Coffee Federation of Ghana, a public and private sector led organization that seeks to lead the coffee revolution in Ghana.
He posited that the Federation is expected to facilitate the review of regulations and guidelines governing the Ghanaian coffee sector and initiate steps towards private sector investments.
The sector minister intimated that all these efforts cannot be sustained without the support and engagement with the private sector such as Asili Coffee.
"We wish to implore Ghanaian private sector to take advantage of the enabling environment created by this Government and ambitious agriculture programmes to diversify and grow your business," he stated.
The Managing Director of Asili Coffee Purveyors Limited, John Nana Addo Francois indicated that Asili Coffee has set up a small 3metric ton per month facility to increase local production and supply the export markets.
He said the company which seeks to provide variety in terms of blends and package sizes has begun experiments in the Panto area in the Akuapem North Municipality and the first harvest is due in 18 months.
Mr. Francois added that the company seeks to capitalize on the changing trend towards the appreciation of Specialty Coffee, which is a step above the quality levels of the more generic instant coffees.
According to him, the specialty coffee sector is the fastest growing sector in the coffee industry. "As such we utilize only the finest beans available on the African continent and process here in Ghana. Our long term goal is to export our produce beyond Ghana's shores and compete globally."
He noted that the two main species of coffee are Robusta and Arabica but in order for coffee beans to be considered specialty they must be roasted, tasted and graded with a score of no less than 80 points.
Mr. Francois said only Arabica which Ghana is unfortunately not blessed with locally, meets the specialty coffee standard.
According to him, Robusta which is the indigenous species can also be cultivated to that level. "We were further bolstered in our pursuits when a Ghanaian sample from the Seed Production unit of COCOBOD managed a score of 75 after we submitted it for sampling with a certified analyst."
He intimated that his outfit is researching into the use of coffee waste for other purposes which can be used as a substrate for mushroom production, mushroom waste as feed for livestock and fertilizer gained from livestock.
Emmanuel Ajarfor Abugri
Editor