Akufo-Addo Tasked Togo's Political Actors To Sustain Progress Made Through Dialogue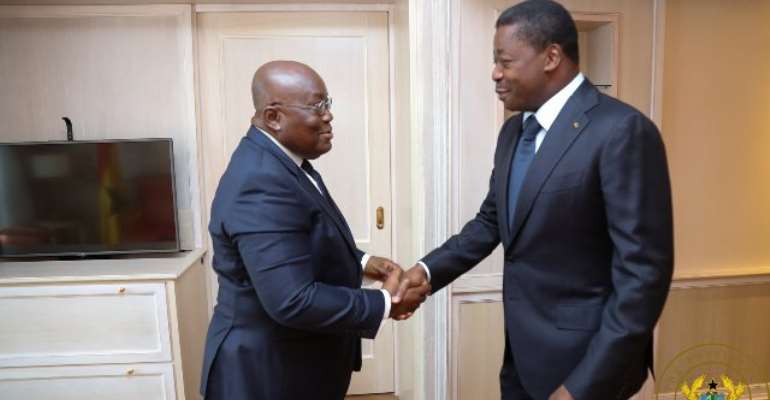 President Akufo-Addo together with his Guinea counterpart, Alpha Conde, have urged Togo's political actors to sustain the progress made in resolving the political impasse in that country through dialogue and consultation.
In a communique issued on Wednesday at the end of the meeting between the Togolese government, the ruling party and the Coalition of 14 opposition parties in Togo, the two Presidents, acting as co-facilitators of the dialogue process, expressed their satisfaction for the openness that prevailed throughout the discussions.
"They further commended the sense of responsibility of all parties, who exhibited their willingness to work together to ease the socio-political tensions and restore peace, harmony and cohesion among the various actors of the Togolese society," the communique said.
President Akufo-Addo and President Conde urged all the political parties and actors to refrain from any action and behaviour likely to pose a threat to the peace and stability in Togo and in the region.
To this end, the co-facilitators appealed to political actors of both the opposition and government to suspend street demonstrations during the dialogue.
"They urge the security forces to ensure that they carry out their law enforcement missions with professionalism, in compliance with the laws of the land," the communique stressed.
They commended the Togolese government for the appeasement measures already taken, including the release of persons arrested during demonstrations held by the opposition.
The two presidents invited the government to "study the possibility of extending the right to demonstrate to the entire national territory, in agreement with the opposition parties, with the aim of guaranteeing freedom of demonstration as well as the security of property and persons."
President Akufo-Addo and President Alpha Conde will examine, in detail, the various concerns raised, and will submit a report at the next Summit of the Authority of Heads of State and Government of ECOWAS.