'1,000 migrants in boats off Libya' as Italy tells rescue ships to stop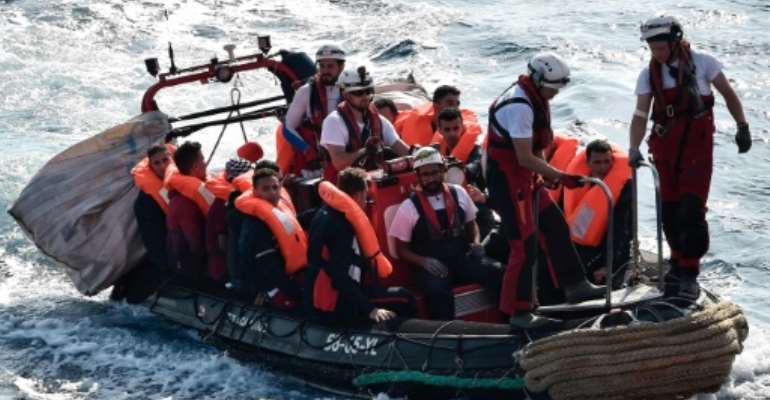 Italy's far-right Interior Minister Matteo Salvini on Sunday told foreign charities to stop rescuing migrants off Libya even as one group said 1,000 people were on boats in distress in the Mediterranean.
With Italy -- long the frontline in Europe's migration crisis -- vowing a new hardline stance, Salvini told the aid groups to back off and let the Libyan coastguard take care of rescue operations.
"Let the Libyan authorities do their work of rescue, recovery and return (of migrants) to their country, as they have been doing for some time, without the ships of the voracious NGOs disturbing them or causing trouble," he said.
"Italian ports are and will be closed to those who aid human traffickers," he said.
Spanish group Proactiva Open Arms said it had received "seven or eight" messages alerting them to boats in distress in the Mediterranean on Sunday.
"Combining all the notifications, it would add up to 1,000 people" near the coast of Libya, spokeswoman Laura Lanuza told AFP.
But she said the Italian coastguard had told the group they "weren't needed" and "the operation was being handled by the Libyan coastguard".
"If the Libyan coastguard coordinates this effort, all these people will be sent back to Libya," she said.
The Libyan coastguard said it had rescued 97 migrants on Sunday and "other operations are under way", but did not give further details.
In recent weeks, Italy's new populist government has cracked down on foreign rescue ships operating in the Mediterranean.
Salvini has repeatedly accused the charities of being complicit with human smugglers.
"These boats can forget about reaching Italy, I want to stop the business of trafficking and mafia," Salvini said Saturday.
The Italian coastguard also sent a message to rescue boats operating in the Mediterranean Friday informing them it would no longer be coordinating rescue operations in the Libya search and rescue area.
"From now on, under the Solas Convention (Safety of life at Sea), captains who are at sea in the area near Libya will have to turn to the Tripoli Centre and the Libyan Coast Guard for help," according to the message cited in the Italian media.
The groups, which have been chartering boats to rescue migrants, point to the very difficult conditions for migrants in Libya as they attempt to reach Europe on the perilous Mediterranean crossing.
Rome once played an important role coordinating rescue missions but but Salvini wants to drastically reduce Italy's involvement.
Safe harbour
Earlier this month Salvini triggered an EU-wide row when he barred the Aquarius rescue ship, chartered by French charity SOS Mediterranee, carrying around 630 migrants, from docking in Italy. Nearby Malta also turned the boat away and the ship was later accepted by Spain.
Two other ships carrying hundreds of migrants -- the German NGO ship Lifeline and Danish container ship Alexander Maersk -- are currently in the Mediterranean awaiting instructions on where they will be allowed to dock.
Both Italy and Malta have refused to take them in.
Barcelona mayor Ada Colau called on the Spanish government to help.
"Right now more than 1,000 people adrift in seven boats and Italy intends to leave them in the hands of Libya, where people are tortured, raped and enslaved," she said on Twitter.
She urged her own country to "help save lives" and said the migrants could would be welcomed in her city.
"Barcelona is offered as a safe harbour."
Salvini's refusal to welcome the rescue ships has thrust immigration to the forefront of the EU agenda and EU leaders were holding a mini-summit on the issue.