Ghana Tourism Summit 2018 Attracts Various Stakeholders In London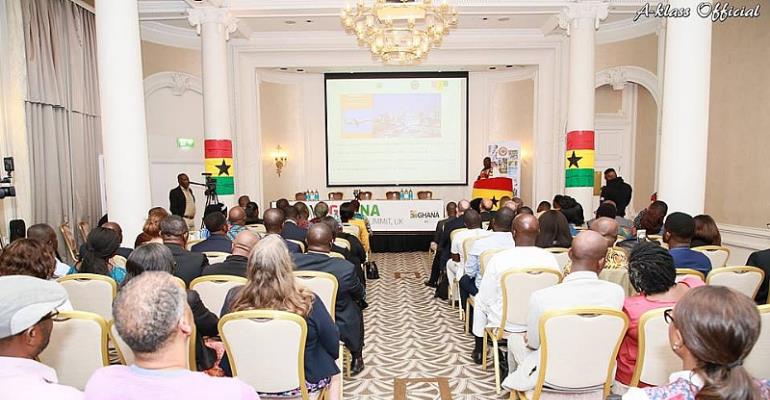 The Ghana tourism Summit 2018 held In London's Waldorf Hilton Hotel On Monday 18th June seeks to revamp Ghana's tourism attractions and capacities in a better position for tourism, trade, commerce and investments at large.
Opening the event in a remarkable manner, the Ghana High Commissioner to the United Kingdom and Ireland His Excellency Paapa Owusu Ankomah cautioned some Ghanaians to stick to standard times in his welcome address.
The High Commissioner said: "Thank you very much, it's a pleasure to be with you, however I must say that, at this stage of Ghana's development, we should aspire to global standards.
"I have been here just about a year and invariably, events organised by Ghanaians never start on time, no and it's serious.
"Ghanaian diasporans when they attend events organised by the English, they get there even before time. Anything that is being organised by Ghanaians, we don't attend on time and I don't understand it.
"If we deem to be global players, the diasporans should be a force of change. When you buy values which are comparable to other countries, you then exert some positive influence in our country.
"When I came to The UK I was struck by the number of countries represented in here. Africa countries over forty are represented in the UK.
"Talk about the Americas and the emerging democracies in Europe, we are all engaged in trade engagements.
"So I say that Ghana is a small fish in a very big pond and if we want to make the difference, then we need to position ourselves in a way that would make us more attractive than others.
"So Targeted Marketing is one of the surest ways of positioning our country. So for me, this morning's event, I believe, makes a step in the right direction for us to explore the tourism potentials in Ghana.
"And of course one of the cardinal principles of the government of President Akufu Addo, is to deepen its engagements with the private sector and build a conducive business environment that will make returns on investment one of the highest in the world.
"This morning's event, offers us a platform for such a thing. And for me, at such events, my expectation is that, we get some feedback from participants.
"Why is it that after all the tourism and investment fairs we have been holding, we don't seem to be making significant difference. I have heard about roads yes, they are being tackled.
"But then we want to know what is it that we ought to do as a fish in a big pond to make us more attractive. So let us use this platform to build partnerships in the tourism sector as we strive to build 'The Ghana beyond Aid'.
"And I say that, one country that Ghanaians are comfortable dealing with when it comes to business, is the United Kingdom.
"Because we have in this country the largest number of Ghanaians resident outside Ghana, English is our common language. We have common legal systems, educational systems and same values.
"So we need to get more business from the UK into Ghana and of course tourism is now a major part of it.
"In Africa's search for sustainable development, we see tourism as a major, major platform because it provides employment, generates foreign exchange and when properly positioned, it can be a substantial foreign exchange earner.
"In Ghana, we are told that tourism is the third largest foreign exchange earner, however, it is still too small with regards to our potentials.
"Of course in Ghana, we have the largest number of forts than any country in the world. That should also serve as a source of attraction which you cannot fine anywhere else in the world.
"So for the first time in our history, the Ghana Tourism Arts and Culture Sector Improvement Project, is being implemented with support from the world bank.
"And the purpose of this project, is to strengthen tourism institutions and improve sector productivity for job creation, empower women and the youth across all sectors along the creative arts and culture value chain and to enhance overall domestic–foreign tourist experience.
"In fact we it comes to tourism, Africa is an under-achiever as compared to other global markets. The world tourism organization figure for the year 2016 suggests that, although Africa had the largest growth in arrivals, the continent attracts only 4.7 percent of the global tourist market.
Referring to the slow movement of tourism within the continent of Africa he said: "Out the 4.7 percent, only 2.9 percent of the global receipts are for tourism in Africa".
"So we have a picture that, despite whatever we are talking about, potentially tourism is largely under-developed. And the Ghanaian situation is not markedly deferent from the trend in West Africa,
"Figures compiled by the Ghana Tourism Authority suggest that we earn an annual average of five hundred million Dollars in tourism receipts. And tourism contributes only 3 percent of Ghana's gross domestic product and that is virtually insignificant.
"So a fair like this, is designed to see how in the medium to long term, tourism can be boosted in Ghana. That is why for the first time, the Ghana Tourism Authority seeks to reach out to tour operators in the United Kingdom, the business community and of course the Ghanaian diasporan.
"For us as the Mission here, we remain committed to providing support and facilitating growth in tourism traffic between Ghana and the UK.
"So please those of you who will be going to Ghana to invest, please make the mission your first point of call when it comes to making exploratory visits.
"And we will make consulate advisory services readily available and we will follow up on almost any initiative you want to implement in Ghana. We are here to help you and love to do so".
Noella Wiyaala as an artist and ambassador did not only sang the national anthem but also played some music to unite all Africans.
In her case study from the Upper West Region of Ghana, Wiyaala gave a true and vivid nature of life, beauty and the advantages of agriculture in the northern region as a geographical location in Ghana.
Bollie of Reggie & Bollie fame gave a remarkable accounts and reasons why Ghana should be taken seriously when talking about tourism in Ghana.
The event was well attended by some dignitaries from Ghana, The United Kingdom and others from the diaspora and cross sections of the general public.
There was a mini-documentary video which was showing all that Ghana has got to offer in terms of the beautiful beaches, castles, forts and other tourist's attractions that abound in Ghana.
Traditions and cultural importance were not left out of the scenery as dancers from the north to the south of Ghana were seen doing their traditional and cultural dancing to the spectacles of most attendees.
There was an engaging, interesting and compelling discussion between the stakeholders in the tourism industry and some of the participants.
Taking the stand on the panel section to explain the Ghanaian Tourism Landscape better to the attendees was Mr Kofi Addo- Head of Trade and Investments from Ghana Embassy London.
Mr Edward Ackah-Nyameke president of Ghana Hotels Association and Kwame Ansong the Chief Executive Officer of Sun-seekers Tours took their time to sell Ghana in the best possible light.
In turns Madam Stella Appenteng the Chief Executive Officer of Apstar Tours and Dentaa Amoateng MBE, C.E.O and Founder of G.U.B.A added their knowledge and expertise in the travel and touring domain.
Dentaa advised that tourism should first start from within Ghana itself by fellow Ghanaians saying "When some Ghanaians visit Ghana, they only visit their families in their regions and that is it.
"They don't travel or visit elsewhere, so that needs to stop. We should try to visit the other regions and see what those regions have as well, so we can sell can properly in terms of tourism".
As the Chairwoman of the event, Madam Adlaide Ahwireng was able to navigate the Ghanaian tourism narrative in an enriched discourse by calling on all attendees to put their hands on deck with regards to tourism in Ghana.
Mr Amoateng Ameneng was the moderator of the event and also gave some information as to what his experience as a traveller and tourist in Ghana was all about.
Tourism is the sparkle and shine of each and every tourist's destination. So if Ghana puts her acts of tourism right with respect to the modernization of infrastructural developments and other resorts packaging, the country will recoup its tourist's revenue and dividends as a tourist competitor.