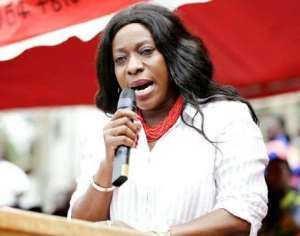 The Minister of Tourism Arts and Culture, Mrs Catherine Abelema Afeku, has officially opened the maiden edition of the Women in Tourism Summit in Accra, as part of efforts aimed at empowering women in the tourism sector.
The summit is being organized under the auspices of the Ministry by the Ghana Tourism Authority (GTA), in partnership with Africa Tourism Partners.
It is on the theme: 'Driving Women Empowerment through Tourism Development,' which dovetails into the national agenda of empowering Ghanaian women to take up challenging tasks in all sectors of the economy, especially tourism.
Mrs Afeku said the National Tourism Development Plan is aimed at empowering women in tourism, research and marketing, product development, quality assurance, culture and creative arts management, amongst others.
She said the Ministry's innovative marketing campaign dubbed 'See Ghana, Eat Ghana, Wear Ghana and Feel Ghana' emphasized local content and encouraged Ghanaians, especially women, to consume local products and eventually reduce over-reliance on foreign and imported goods.
She said the goal of the summit was to promote women's economic empowerment in tourism through partnerships with key stakeholders across the entire travel, tourism and hospitality value chain.
'The Ministry takes the opportunity to heighten its awareness level with the Ministry of Gender, Children and Social Protection, as the lead advocate for women empowerment in Tourism, leadership and education,' she said.
According to the United Nation's World Tourism Organisation (UNWTO), women make up about 60 per cent of jobs in the Tourism Sector but are marginalized when it comes to promotions, and decent pay, among others.
Mrs Afeku noted that the linkage between poverty and tourism underscored the recognition of tourism development as a major socio-economic activity at the global, national and local levels.
She said tourism provided opportunities for the poor to gain access to jobs, participation in decision making, income and gender inequalities, all of which act as barriers against women.'
'This cutting-edge gathering of women game changers, mission-driven companies and individuals, professionals and leaders in tourism is the first ever conference of this nature in Ghana.
This will be instituted as an annual event that gives women in tourism an opportunity to network and learn more about issues relating to funding, investment, marketing, running business and leadership across the entire tourism value chain.'
Madam Otiko Afisah Djabah, Minister for Gender, Children and Social Protection, said the growing competition for tourism makes it necessary for Ghanaians to up their game in the development and promotion of the country.
She said Ghana has huge tourism potentials with products such as culture, eco-sysyem, heritage, beach and conference tourism and loving people, saying that, tourism has been an agent for development through foreign exchange earnings and creation of direct and indirect jobs that contribute to development and poverty reduction.
She said despite these potentials there were challenges, because of gender inequalities and the huge gap between men and women, but with the new direction of women empowerment there was the need to promote equality in tourism and its opportunities.
Madam Djaba said the summit must therefore explore a service of impactful agenda that would bring together women to discuss issues pertaining to the role of women in tourism and also stimulate the setting of a new course of action to increase women involvement in tourism.
She said 'This summit must therefore be a platform that aims at strategically promoting gender equality and women empowerment in tourism by protecting their rights through better employment, bridging the education, culture and entrepreneurship gab.
Madam Nancy Sam, President, Women in Tourism, Ghana said 70 per cent of the world's poorest people were women and it was important that efforts were doubled to take women out of poverty through empowerment of all forms.
She said tourism was one of the world's largest and fastest growing industries and according to the UNWTO women report 2011, women make up a significant number of the tourism workforce globally, and this creates the opportunity for them to gain jobs and incomes, and that, using tourism as a tool for women empowerment would bring more benefits.
She said the summit sought to bridge the gap between men and women in the sector, as well as promote women economic empowerment through promoting tourism opportunities for women by facilitating their access to jobs and creating possibilities for career development in the sector.
Madam Sam said the summit is also to create the opportunity to improve the educational levels of women in the sector through planned interventions as well as build their leadership capabilities through networking in the various aspects of tourism.
'This summit would also facilitate improvement in sharing knowledge, regarding the accessibility of funds and other resources. It would also inspire, motivate, and support women in the sector while advocating for greater gender balance in leadership and also giving a voice for women to articulate their rights as women to collectively demand change in the industry.'
Mr Akwesi Agyemang, Chief Executive Officer, GTA, said women were doing wonderful jobs in tourism and globally they constitute the highest number of people in tourism, yet they are marginalized, and concentrated in the lowest status in the various jobs.
He said the summit, therefore, was to begin the process of integrating stronger gender perspective into the planning and implementation of processes in tourism.
GNA
By Hafsa Obeng, GNA