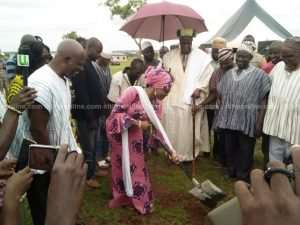 ActionAid Ghana is constructing an ultra modern Girls Junior High School complex in the capital of the Sagnarigu Municipality of the Northern Region.
This is in line with the organization's girl child education promotion agenda in needy communities.
The project when completed will be the first of its kind in the district.

It is designed to be a boarding facility with a resource centre for manpower skills development.
The Northern Regional Programs Manager of ActionAid, Madam Ester Boateng, in a Citi News interview on the sidelines at the grounds breaking ceremony said the number of girls who dropout from school in the district was high, hence the intervention.

"The project is necessary because ActionAid Ghana has realized that many young girls in the Sagnarigu Municipality are found wandering around whilst their colleagues are in school. This prompted ActionAid to construct such a monumental facility to support the development and empowerment of these girls."
Madam Esther Boateng pleaded with the contractor to complete the project estimated at GH₵570, 000.00 within three months.
"We need the building in September to start the school, the selection process was very vigorous, so we selected the very best of contractors to do the job for us."
She appealed to parents and guardians to take advantage of the project and educate their female children.
She further tasked the opinion leaders in the community to zealously safeguard the school land from encroachers.

The Sagnarigu Municipal Chief Executive, Mariam Iddrisu, commended ActionAid Ghana for the intervention.
"We wish to express our sincerest gratitude to the Director of ActionAid Ghana for the northern region and the Chief of Sagnarigu for allocating the four acres of land to realize the development of the school complex."
She disclosed that "The assembly introduced the girl child education in a temporary structure realizing that the dropout of girls in school was on the rise."
"The objective of the girls model school is to provide sufficient access to quality education to girls in the Sagnarigu municipality, and to groom them to fit well into the society and become competitive and confident to become future leaders in the municipality."
–