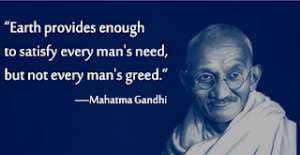 In politics, it's always easy to criticize opposition, and make promises but once your party is in power, you'll realize that talking is cheap and easier than constructing or repairing a damaged road. If African leaders will be sincere to delete greed and corruption from their diary, the continent would reach far in development since there are vast resources to finance such projects.
Human beings by nature have the potential for greedy tendencies, but the strong desire of some people to possess at all cost wouldn't mind killing or shedding blood to achieve whatever they are looking for. That's the dangerous part of greed.
In a documentary film, I watched recently, a drug dealer who was successful in his first and second attempts to transport narcotics to Asia and earned thousands of dollars. Despite becoming a millionaire overnight, greed propelled him to make a third attempt and he was arrested and jailed. Had I known is always at last.
Greed, the tendency to selfish craving, hoarding and grasping is responsible for the violence, and crime tearing our society apart today. Greed plays a major role in all fields including politics, sports, and in administrations. In both developing and developed countries, greed leads to corruption and the amassed in wealth.
It's shocking to see the present condition in many African countries while some African leaders take state money and keep them in foreign accounts. Greed is not a problem in Africa alone but everywhere because it's a man's problem, the reasons advanced countries are equally corrupt like Africa.
Money taken from Africa is classified as corruption and that of Europe and America is classified as 'misappropriate of funds' because they think corruption is a word that suits Africa but the act is the same. Some people believe that to be successful in life the need to be greedy is necessary, but living on greed is like gradually digging your own grave.
As a matter of fact, greed makes people unhappy, stupid, corrupt and restless because that lack of satisfaction which urges you to crave for more takes control of you both physically and psychologically. If the heart wants it and there aren't any means, what follows next is usually a crime. The reason desperate people do desperate things.
Some people ask if we can get rid of greed and if possible how can we do it? As a matter of fact, greed is a like common sickness which can be controlled but can never ever be eliminated because it's impossible to get rid of it completely.
Even in the public transports, some people take two seats, one for him/her and other for the briefcase or handbag while others are standing. What do you benefit if you gain the whole world but lose your own soul? These are some of the Biblical quotations we need to use as a guide to refrain from greed.