AMA Decongestion Running Out Of Steam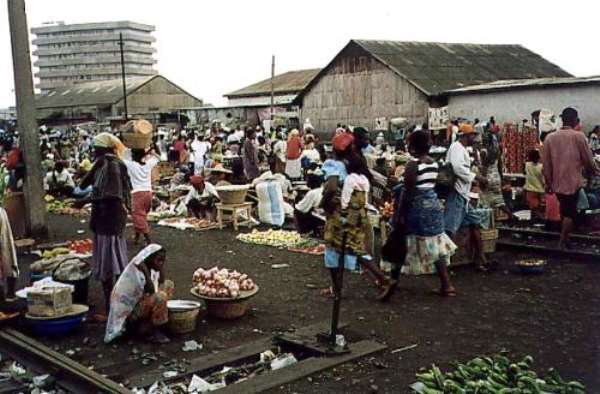 The Accra Metropolitan Assembly (AMA) decongestion exercise launched to get traders and hawkers off the streets and pavements appears to have run out of steam, six months on.
Hawkers and traders forcibly removed from pavements, footbridges, ceremonial routes and open spaces in the capital city are returning.
At the Accra Railway Market many of them had brazenly displayed their wares on pedestrian walkways.
Ms Abigail Baah, a young trader, who deals in children's shoes, complained to the Ghana News Agency (GNA) about what she said was the harassment by the AMA taskforce, assigned the job of clearing the traders off unauthorised places.
She pleaded with the government and the city authorities to allow them to freely carry on their trading activities.
'I am not happy with the way we (traders) are being treated by the taskforce.
I am selling on the pavement because, I cannot afford to pay the high charges for a market store and moreover, there is on-going construction works at the market so we have been sacked. I am left with no choice but to sell on the pavement'.
The GNA saw the taskforce seized wares of some traders and that triggered heated verbal exchanges between some of the traders and members of the taskforce.
There were mixed reaction from pedestrians who were at the scene as some of them pleaded with the authorities to allow the hawkers and traders back on the pavements.
Sampson Kobena said that was where many had been getting their livelihood.
Mrs Angela Koomson, another pedestrian, expressed outrage at what she saw as cruel and disrespectful treatment of the traders.
She said it was heartbreaking, how members of the taskforce, could be so insensitive and uncaring to even the disabled and aged traders.
Richmond Turkson, however, saw nothing wrong with what the AMA was doing, saying, trading on the pavements and streets was an eyesore.
This did not speak well of the country, especially along the ceremonial routes.
Wisdom Tsakoli, a staff of Standard Chartered Bank, urged the AMA to provide alternative place for hawkers before evacuating them from the pavements.
Meanwhile, Gilbert Ankrah, the AMA Public Relations Officer, had rejected any suggestion that the decongestion exercise had lost momentum.
Many traders, he said, had stopped doing business on the pavements and streets.
'The AMA is glad that for once traders have paid heed to its directive, so they believe that with time these hawkers will come to appreciate why the assembly is asking them to move from the pavements.'
GNA