Tubong Community Benefits From World Vision Water Project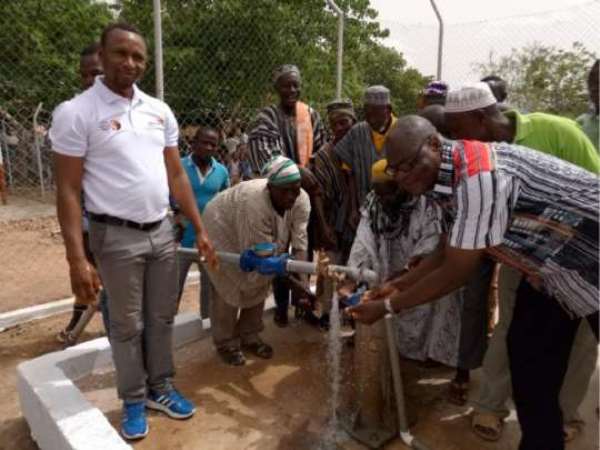 The Ghana office of World Vision International (WVI) has commissioned a $90,000 water project for the Tubong community and its environs in the Tempane Constituency of the Upper East Region.
The Mechanised borehole water project with a four water tank housing system is stationed at vantage points cross the community and expected to pump 10,000 litres of water daily to serve the water needs of the community and its dependents.
Mr Dickens Thunde, National Director for WVI who commissioned the facility on Tuesday at Tubong in the Tempane district of the Upper East Region, noted that the organisation was focused at the development of children and that the facility targeted to provide potable drinking water to women and children in the area.
Mr Thunde said women and children were the most vulnerable and indicated that the organisation was committed to providing their needs to promote their wellbeing.
He said the facility would save women and children from travelling far distances in search of water, indicating that it would now allow children to pay attention to their studies and perform better in school.
He noted that the organisation was working with some guidelines such as promoting cleanliness and said the Tubong community qualified due to the efforts they made at achieving Open Defecation free in the community among other variables.
Mr Thunde stressed the need for other communities to stay clean and follow the open defecation directive and ensure that their communities were free from such menace so that they may also qualify for such opportunities among other things that would promote their welfare, especially children.
He lauded parents in the community adopting good parenting techniques to raise their children and urged them to make it a priority to see to it that their children were given quality livelihood since they were the driving force for the development of their communities in future.
The National Director called on the community members to form a pro-active water committee to manage the facility to prolong its lifespan to serve the people in the area and beyond.
Mr Zanyeya Laari committee chairman for the water project who spoke on behalf of the Chief and people commended the WVI for the initiative and said the community was grateful for the gesture because it had come at the right time to save them from the perennial water crises in the area.
GNA
By Jerry Azanduna, GNA