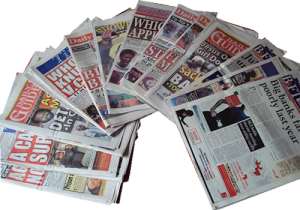 Mr Frank Fuseini Adongo, Deputy Upper East Regional Minister has called on Ghanaians to cultivate the habit of reading to broaden their outlook.
He said the country's slow progress was as a result of poor reading habits, which had held back knowledge and progressive thinking.
Mr Adongo made the call at the launch of the Ghana Business Week newspaper in Accra, on Tuesday.
He said reading spurs national development, through the broadening of the knowledge base of the citizenry and promotes moral growth and upbringing, adding that, no nation can advance if its people lacked knowledge.
Mr Adongo, who is also the Member of Parliament for Zebilla, urged the publishers of the newspaper to come out with well researched stories that would promote the socio-economic development of the nation, adding that, they should also work out plans and strategies that would ensure the sustainability of the newspaper.
Mrs Linda Asante Adjei, Vice President of the Ghana Journalists Association (GJA) advised the publishers to abide by the code of ethics of the association.
She expressed the hope that the newspaper would come out with articles, which were factual, fair and balanced, to ensure its credibility.
Mr Philip Amanor, Director of Addvalue Multimedia, said the newspaper would survive the stiff competition in the newspaper industry through innovation and technology.