Seven Great Princesses Academy Welcome Their Own Gwendolyn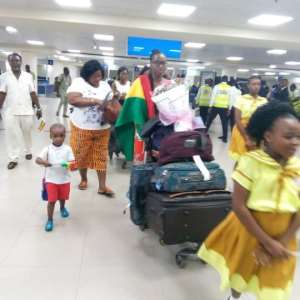 Accra, June 20, GNA- Students of Seven Great Princesses Academy on Tuesday welcomed Academic ace Gwendolyne Brown at the Kotoka International Airport to a much fanfare and traditional choreograph from students of the school.
She attended the school before making the epoch-making history at the Southampton University in the United Kingdom.
Ms Brown, 21, became the first Ghanaian woman to score hundred percent in English literature in the Advance Subsidiary level in Britain and was met on arrival by her mother, Mrs Brown together with some officials and students of Seven Great Princes Academy.
The 21-year-old is expected to pay a courtesy call on former President Jerry John Rawlings later today before delivering a speech at the opening of the academic week of the Seven Great Princes Academy on Tuesday, June 27.
She told reporters upon her arrival that she was proud of what she achieved for Ghana and her Alma mater, Seven Great Princes and asserted that without it, she couldn't have made it that far.
She noted that her alma mater provided the spark for her intellectual discipline which she had never departed from and any Ghanaian girl child could have achieved same with better educational Foundation citing Seven Great Princes Academy as an example.
Ms Brown expressed gratitude to the school and the teachers for making her what she was today.