NSMQ knockout stage; Adisadel vs Osei Tutu vs Ola; the contest to watch Today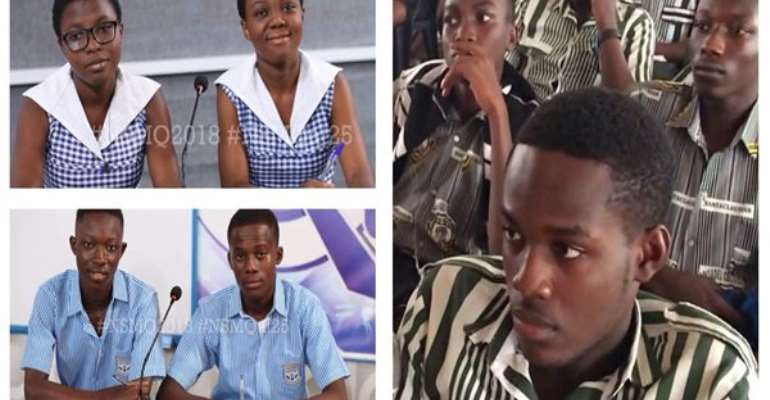 2017 finalists Adisadel College, highest scoring Osei Tutu SHS and underdogs Ola Girls SHS will face off in Wednesday's final 1/8 contest at 4:00 pm.
The 2018 NSMQ entered the knockout stage on Monday and has produced some thrilling contests albeit the results haven't been surprising.
As of Tuesday evening, all six schools who made it through to the quarterfinals have been seeded schools.
Aburi Girls' SHS crashed both Obuasi SHTS and Abuakwa State College Tuesday to go through and Ghana National also pulled a stunner in their contest to make it. University practice SHS also made it through on Tuesday.
But Wednesday evening, the contest between Adisadel and Osei Tutu promises to break the status quo with Ola SHS also seeking to join Aburi Girls' as the second girls' school to make it to the quarterfinals.
Bolgatanga Girls' SHS had earlier been eliminated after an abysmal performance; salvaging only 3 points in 5 rounds. Yaa Asantewaa Girls also lost to Legon-based Presby Boys' SHS.
In this evening's match, however, Adisadel will be looking to keep up momentum and restore honour after failing to defend the title in 2017.
Osei Tutu SHS will also be seeking to keep up their magnificent form after winning their preliminary contest with a record 64 points, the highest this year.
Ola Girls' come in today as the underdogs. Albeit winning their prelims, they did so with 31 points, less than half of what Osei Tutu scored.
The contest is tagged as one of the most promising ones. Watch the analysis video below
Before that comes, however, there is:
Kumasi SHS vs St. Louis SHS vs Armed Forces SHTS
Anlo SHS Sandema SHTS vs St Johns Grammar
Story by Ghana| Myjoyonline.com| Oswald K Azumah| [email protected]