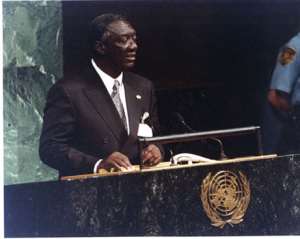 President J. A. Kufuor has observed that democracy without the firm underpinning of a sound, productive and fast-growing economy can be self-destructive, especially in the Third World.
He said it was for that reason that even as the Government cherished democracy it had taken the measures on the basis of well calculated priorities to ensure the stability of the Ghanaian economy and its sustained accelerated growth to generate employment and provide good incomes for the people.
President Kufuor made the observation when he delivered the first ever UNESCO chair public lecture on human rights at the University of Connecticut in Connecticut last Tuesday.
His topic was, "The democratic transformation of Ghana.' The President was welcomed to the university by a section of the enthusiastic Ghanaian community in America, some of whom had come from Toronto in Canada to listen to him.
President Kufuor told the large audience that as a result of measures pursued by his government, certain economic gains had been made.
He said, for example, that inflation had fallen from over 40 per cent in 2001 to 14 per cent presently, while the cedi, which depreciated by against the dollar by about 100 per cent in 2000, had only depreciated by about three per cent for the past four years.
Additionally, national reserves, which stood at $200 million in 2001, now amounted to $1.4 billion, the lending rate which was over 50 per cent in 2000, had reduced to around 20 per cent, and the minimum daily wage, which was under $1, had been increased to equivalent of over $1.5.
Meanwhile, massive infrastructural work on roads, in the energy sector, ICT, water, educational institutions at all levels, health, the ports and harbours was being undertaken throughout the country, he said.
President Kufuor said such healthy development in key sectors of the Ghanaian economy, the adoption of the HIPC initiative and the benefits derived thereof, as well as the pledges by the Group of Eight most industrialised countries (G8) to give Ghana total debt forgiveness, had combined to trigger world attention on the country.