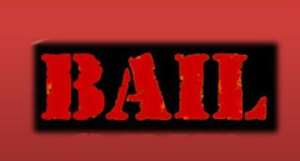 An Accra circuit court has granted Gabriel Teye Nartey, a Police General Lance Corporal bail in the sum of GH¢100,000.00 with three sureties for allegedly defrauding 3 persons under pretext of securing them lands.
The three are an auditor, an accountant and another Ghanaian living in the United States
The court directed that one of the sureties should be a public servant earning not less than GH¢1,000.00. per month.
He should also make a security deposit of GH¢15,000.00.
Gabriel Teye Nartey pleaded not guilty to fraudulent transaction of land and he is to re-appear on June 26.
Police Chief Inspector Maxwell Oppong told the Court presided over by Mr Emmanuel Essandoh that the prosecution witnesses; Samuel Lincoln Terkper, auditor, Patrick Amoako, accountant and Aidoo, are residents of Tabora, Agbogba and Dansoman, respectively in the Greater Accra region.
Nartey is a Police officer, stationed at the Dansoman Motor Traffic and Transport Department (MTTD) also in Accra.
The Prosecution said between March and April, 2017, Terpker met Nartey at Adenta and introduced himself as a policeman who deals in plots of land.
Terkper expressed interest and Nartey sold a piece of land to him at GH¢28,000.00.
Amoako was also introduced to Nartey and later he also bought a plot of land at GH¢35,000.00 and paid an advance of GH¢20,000.00, in addition to a Peugeot saloon car valued GH¢15,000.00 as final payment.
The Prosecution said after taking the money, Nartey failed to produce them with documents covering the lands and went into hiding.
Terkper and Amoako visited the said lands but were shocked to know that the lands do not belong to Nartey.
Prosecution said Terkper who made checks with the Land Commission, discovered that the said land belonged to one Pearl Aku Atiemo.
On May 16, this year, the two went to the Greater Accra Regional Police Headquarters to lodge a formal complaint and Nartey was arrested.
Aidoo on June 8, upon hearing of Nartey's arrest, also made a report that the accused who was a church member contacted he Aidoo's father through Facebook that he was selling a land at GH¢35,000.00 and he showed interest.
The prosecution said and amount of GH¢19,000.00 was given to Nartey through his son called Jimmy as part payment on March 7, this year and a receipt was issued to that effect with the promise to pay the rest after the necessary checks on the said land located at Oyarifa has been made.
The Prosecution said, Nartey went into hiding after taking the money until his arrest.
Chief Inspector Oppong said Nartey admitted the offence in his caution statement and said that he also bought the land from someone he only named as Eric and Akpor Mensah but could not produce documents on that score