I Am Not Surprised the Other Anthony Did Not Make It – Part 1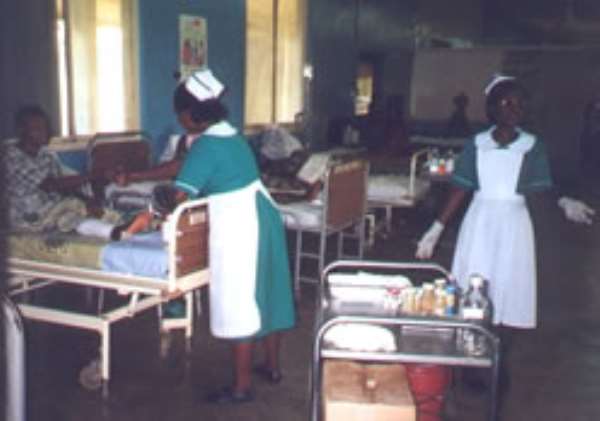 I have written many times about the fact that I spent most of my childhood in hospitals and clinics. So, perhaps, I obviously understand and more fully appreciate the pain and trauma that 70-year-old Prince Opoku-Acheampong and his relatives must have endured during the last four-and-half, or so, hours of his life than most Ghanaians, including many of our leaders in policymaking positions who ought to know better but obviously do not (See "Speaker Moves to Tackle No-Bed Syndrome in the Health Sector" CitiNewsRoom.com / Modernghana.com 6/12/18).
Among the platoons of hospitals and clinics where I spent a critical and humongous temporal chunk of my early life and as a young adult, receiving treatment as either an outpatient or an inpatient, were the Akyem-Anyinam Clinic. That was during the years between 1965 and 1969, when I lived with my then pupil-teacher mother at Akyem-Kankan, near Jejeti, on the Accra-Kumasi highway. Today, Kankan or Kankang has been renamed Akyem-Sekyere. But like my Akyem-Asiakwa royal family, most of the residents and inhabitants of Kankan claim bona fide Asante heritage.
This is why I could not have been more elated to read the news report of the recent courtesy and fraternal call that The Okyenhene, Osagyefo Amoatia Ofori-Panyin, II, paid The Asantehene, Otumfuo Osei-Tutu, II, at the latter's Manhyia Palace in Kumasi, the Asante regional capital. For those of our readers who may not know this, both Osagyefo Amoatia Ofori-Panyin and Otumfuo Osei-Tutu, II, are blood relatives. They are also conjugal in-laws. And the latter relationship goes back centuries. The Okyenhene was himself given the birthname of Odeefuo Nana (Atakora) Amaninampong. That, of course, also makes His Majesty the namesake of the Krontihene or Civic Head of the Asante Nation or Asanteman.
Anyway, at the Akyem-Anyinam Clinic, perhaps today upgraded to the status of a Municipal Hospital, I was prescribed some 100 malarial shots or injections when I was in class two, or second grade, which my mother had to take me about the five or seven miles from Kankan to Anyinam nearly every day of the week to receive. I also had to commute from Akyem-Asiakwa to Kyebi, a distance of some 13 miles, daily, to receive some three-dozen shots when I was 10 years old. After the second or third visit, my maternal grandfather, the Rev. T. H. Sintim, of the Presbyterian Church of Ghana, as he most preferred to be known, decided that I stay with my paternal grandmother, Nana Akua Yeboaa (Auntie'Kua), of Kyebi-Aburaso, for the rest of the duration of my shots.
That, of course, meant a whole month without schooling. In retrospect, it could have easily been arranged by my grandfather for me to temporarily school with my classmates at the Kyebi Presbyterian Primary School. I would also spend some four months in the country's oldest and flagship health center, the Korle-Bu Teaching Hospital; also, at the Komfo Anokye Teaching Hospital, the nation's second largest, in the Asante regional capital of Kumasi, and at the Asante-Akyem-Agogo Presbyterian Hospital. Also, the Okwawu-Nkawkaw Holy Family Catholic Hospital. Add to the foregoing, Asante-Mampong's St. Andrews' Hospital, where I was born and spent quite a considerable time recovering from my natal trauma. And then, of course, the Okwawu-Atibie Hospital and the Koforidua Government Hospital. As well, the Kaneshie Polyclinic. I may have left out the names of one or two more hospitals and clinics.
I guess the Dear Reader gets the vividly laborious picture that I am trying to paint here. Which is that had I been born at any time, perhaps a decade or two, before my birthdate, it is very likely that I might not be sitting here chatting with you this early morning, mulling the tragically embarrassing story of how 70-year-old Mr. Prince Opoku-Acheampong reportedly got driven around the Accra metropolis in search of emergency medical treatment, for some four-and-hours, and perished in his own car because some seven hospitals and clinics had callously refused to administer to him the emergency treatment that he direly needed, on the inexcusably scandalous grounds of an acute shortage of beds. This is Ghana all right, trust me, my dear reader. The Ghana that I adamantly refuse to miss these 30-odd years that I have been resident here in the United States of America.
*Visit my blog at: kwameokoampaahoofe.wordpress.com Ghanaffairs