Ananse The Teacher App Educational Tour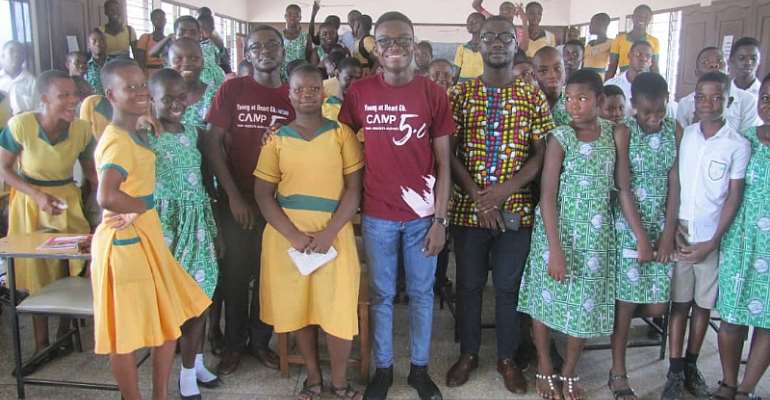 Basic school education serves as a fundamental formative period in the lives of children. During this stage children explore, play and enjoy experiential learning which builds a foundation for interests in possible careers in future. Drawing on the huge potential digital platforms hold in an ever-evolving technological world, ed-tech platforms, in recent times, have been explored as viable avenues for exploration and experience-based learning.
All over the world, education technology (ed-tech) platforms have grown into key options for exciting and engaging learning encounters for children. 'Young At Heart Ghana', is a Ghanaian non-profit organization, that is exploring ed-tech solutions specially tailored to guide children to discover the brilliance and ingenuity of Africa. It is doing this through its maiden app, 'Ananse The Teacher'.
Ananse The Teacher App is a mobile and desktop application that provides a gamified platform which combines learning with fun. It primarily guides its users to discover practical activities related to Science, Technology, Engineering, Arts and Mathematics (S.T.E.A.M) found in African folklore themed stories.
For the longest time, beyond the moral and ethical lessons captured in folklore stories, the brilliant and ingenious S.T.E.A.M lessons have not been explored. For the longest time however, S.T.E.A.M lessons, especially lessons in Science and Mathematics have been a regular area of complaint, due to their perceived unrelatable nature.
With an aim to change the existing narrative of abstract learning experiences related to a majority of S.T.E.A.M lessons, 'Ananse The Teacher App' engages its users to discover practical activities from the stories they read, and conduct these activities using materials they usually interact with at home. The approach of using everyday things to conduct S.T.E.A.M practical lessons, allows the user to gain a critical awareness of their immediate environment as an exploratory hub and open laboratory. This inspires curiosity and the mindfulness for innovation.
The App also offers a range of other features including; games on traditional symbol, tourism sites and positive behaviors like recycling.
'Ananse The Teacher App' is available for free on both IOS and Android platforms and has attracted over 3000 engagements and counting.
In a quest to further increase its users and create more awareness of the educational functionalities of the app, Young At Heart Ghana has partnered with the 'Junior Camp Ghana' program, a Ghana Think Foundation program which provides value to high school students as well as the National Society of Black Engineers (NSBE) to embark on a nationwide educational tour to various basic schools across the length and breath of Ghana.
The educational tour started in March 2018 and has already reached out to close to 1000 students across the Eastern, Greater Accra and Volta Regions. In general students and teachers who have been engaged have expressed a great sense of excitement about the app, describing it as an exciting and practical tool. The tour is set to cover schools in all 10 regions of Ghana. At the end of the year all students who have participated in the Educational Tour or downloaded the App will be given the opportunity to apply for an Innovators competition where they will showcase S.T.E.A.M based projects inspired by the lessons they have learnt through Ananse The Teacher App. Download Ananse The Teacher App on Google play store or IOS Store, for an amazing experience.
Supporting Partners include GH-Scientific, CommsAid and Airtel Tigo