Ridge Hospital Holds Blood Donation Exercise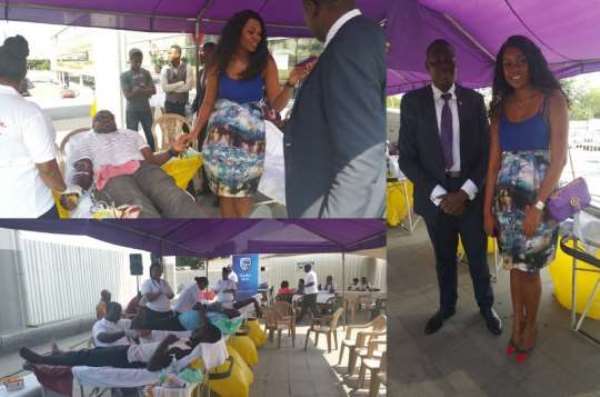 Ghanaian actress Yvonne Nelson, in collaboration with the Greater Accra Regional Hospital (Ridge), on Thursday, organised a blood donation exercise to mark World Blood Donor Day.
The actress in an interview with the Ghana News Agency (GNA) said she decided to honour the request from the hospital to observe the World Blood Donor Day because, she believed that every blood donation exercise meant saving tons of lives.
Ms Nelson said she also decided to grace the event, because of the huge number of people who followed her on social media and so decided to create awareness and publicity for the exercise.
She urged the public to take blood donation exercises seriously since it would go a long way to help during emergencies and also to save lives.
'Anytime hospitals like this call on us to support in blood donations exercises, we have to be ready to assist positively,' and called on her colleagues to also take part in such events.
Dr Emmanuel Adepa-Adapo, a Surgeon and member of the Ridge hospital's blood bank team, said, the joy of donating blood to save a live, knowing very well that one will not be remunerated for it, should be of benefit and pride to the donors.
He said the hospital's blood stock was very low, and hopes to get about 200 pints of blood by the close of the exercise.
Dr Adepa-Adapo said statistics also showed that blood borne diseases are very low in voluntary blood donors, saying that, 'those who are regular donors have a very low incidence of contracting blood related diseases like, HIV/AIDS, Syphilis, and Hepatitis B and C, so the longevity is assured.
Also the screening of the blood to know whether it is safe to be taken is something that under normal circumstances, would be paid for, but blood donors get to know all that and their blood group free of charge,' he said.
Dr Adepa-Adapo said the Ridge hospital gives out cards to voluntary donors so that in times of need or sickness they would receive blood transfusion free of charge.
He also called on corporate bodies and government to help the hospital with vehicles to boost and make its blood donation exercises easier and attractive to donors.
Dr Adepa-Adapo urged the Health Ministry and government to honour or recognise regular blood donors, as a way of motivating more people to get involved in blood donation.
Dr Mercy Owusu Boateng, a volunteer donor, said she has been donating blood since she was 15, and would continue to do so, because she feels glad that her blood eventually saves the life of someone else.
John Komissah, a regular donor invited by the hospital, said he came to donate because he has had the opportunity to witness emergency cases brought to hospitals, and believe his blood can save a lot of people and pregnant women. GNA
By Emmanuel Kwame Donkor, GNA