NMSQ2018: First Timers From Ho Show OWASS The Red Card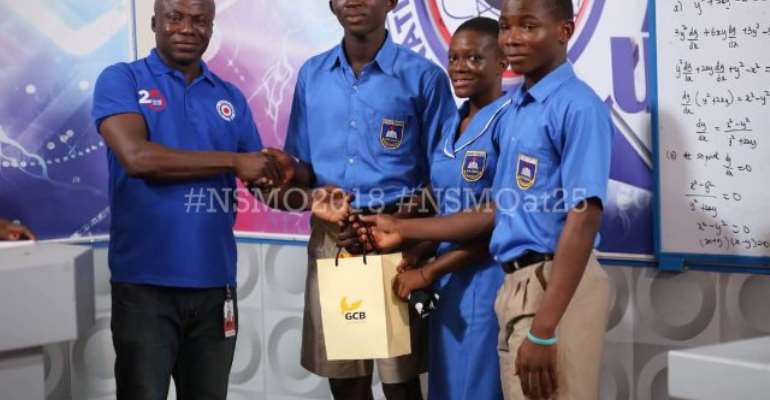 Although their 46 points will give them hopes of sailing through as a high-scoring losing school, Opoku Ware SHS will have to live with the fact that debutants, Sonrise SHS from Ho overturned their seemingly won victory.
After opening a 13-point gap in round one, by snatching most of the bonus points from the other two schools, veterans Opoku Ware may have thought the battle was in, Nkrumah's words, "over!"
UGBS: Opoku Ware School snatching most of the bonus questions in this first round. They really came prepared #NSMQ2018 #Prelims #NSMQat25 #Primetimeat25 — NSMQ Ghana (@NSMQGhana) June 15, 2018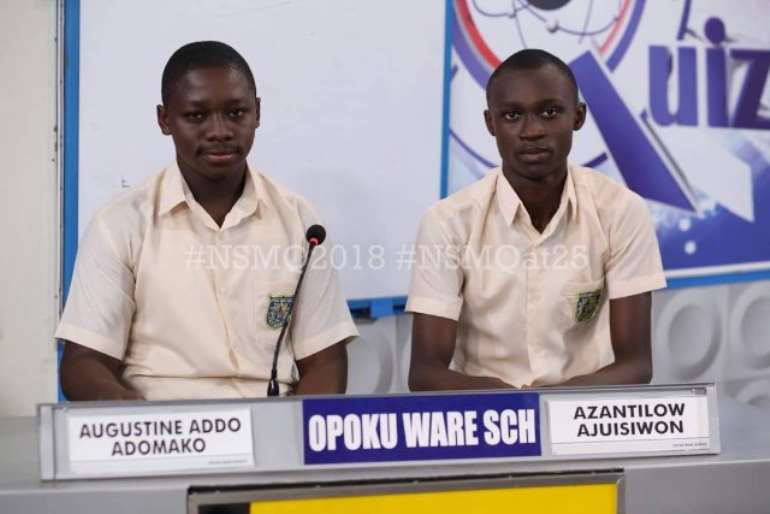 However, Sonrise gave them a run for their money by matching them in the speed round which saw OWASS's swan neck margin cut.
After Sonrise scored 9 out of 10 points in the problem of the day, OWASS became aware that their victory was in jeopardy having collected only 6.
The fourth round passed in a flash albeit not to OWASS as they had to witness their otherwise wide margin tied at 43–43.
After getting two of the riddles ahead of OWASS, Sonrise SHS scored 49 points to place the two time winners' hope in limbo as they will have to rely on performances of other schools to go through.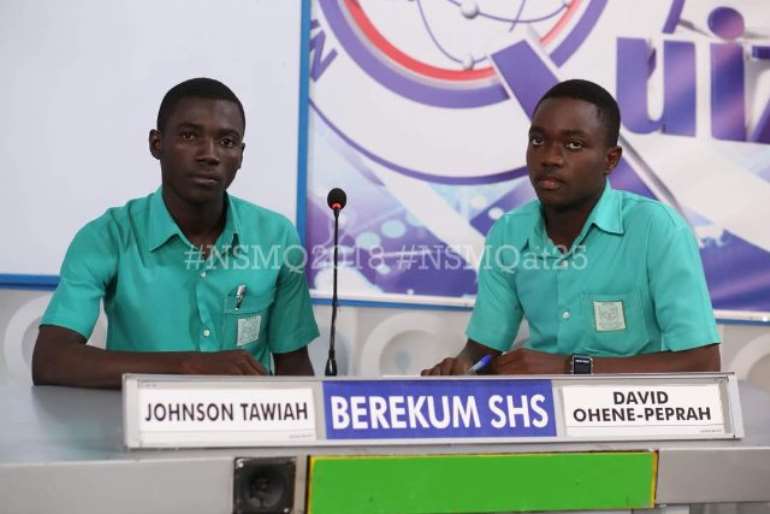 Berekum SHS were unfortunately not part of the context, amassing a paltry 15 points at the end of the contest.
UGBS: End of contest:
Sonrise SHS: 49 pts
Opoku Ware Sch: 46 pts
Berekum SHS: 15 pts
UGBS: End of round 4:
Sonrise SHS: 43 pts
Opoku Ware Sch: 43 pts
Berekum SHS: 15 pts
End of round 3
Opoku Ware Sch: 29 pts
Sonrise SHS: 28 pts
Berekum SHS: 09 pts
UGBS: End of round 2:
Opoku Ware Sch: 23 pts
Sonrise SHS: 18 pts
Berekum SHS: 08 pts
UGBS: End of round 1:
Opoku Ware School: 20 pts
Sonrise SHS: 07 pts
Berekum SHS: 07 pts
Story by Ghana| Myjoyonline.com| Oswald K Azumah| [email protected]