Gov't Committed To Building Modern Railway Network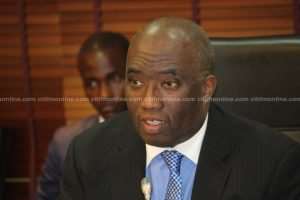 The Railway Development Ministry has reiterated the government's commitment towards constructing an effective and modern railway network in the country by the end of its first term.
The sector minister, Joe Ghartey, says he is poised to ensure the attainment of the president's vision.
The Ministry has currently begun works to overhaul railway tracks in the national capital, Accra.
The entire project is estimated to cost about 15 million Ghana cedis, and it is expected to be completed in seven months.
Speaking to Citi News, Joe Ghartey said he wants Ghanaian companies to be involved attaining the President's dream.
"The president's vision is to have a modern railway network throughout the country for various reasons, to ease traffic, make life simpler for us and reduce the cost of doing business and so we are working hard on it. Today, we have done two things, we have inspected the lines and we have also looked at work that Ghana Railways Company Limited is doing, and for me it is clear that the spirit of Railway is up," he said.
Last month, the Ministry for Railway Development opened responses to the Request for Qualification issued to various companies shortlisted for the construction of the Eastern Railway Line.
The Ministry received fifteen responses from various countries including USA, France, Germany, China and Ghana.
"This is the second stage; the second stage is the request for qualification. Within a few days I will get a report from the evaluation team, how long it will take them, depending on how much information. If the quality of information is good, it will not take long. From that stage, the next stage will require them to bring forward a detailed proposal. I desire that by the third quarter of this year, we will reach financial closure and sign the contract," he said.
–