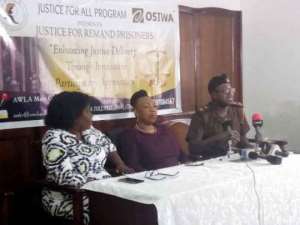 The Acting Chief Legal Officer of the Ghana Prison Service says by September this year, the service would have its records on Prisoners automated.
According to Chief Superintendent of Prisons (CSP) Amos Kwabena Antwi, the automation would help the service to do away with manual documentations.
Speaking to the GNA after launch of African Women Lawyers Association Toll-free SMA Platform in Accra, CSP Antwi said under the service automation programme dubbed: 'Inmates Automation System', the Ghana Prison Service would be able to identify Prisoners in their custody.
According to him, the programme would have bio-data on all inmates and also enable the service to give 'special treatment' to ex-convicts.
He said prisoners who change or give multiple names in various prisons would also be addressed under the programme.
CSP Antwi said automation was being carried out by the Ghana Institute of Management and Public Administration (GIMPA) in collaboration with the service and said feasibility had been conducted and a full report on the automation and the software of the programme would be submitted by GIMPA by the end of June.
He said the automation would also help the Ghana Prison Service to tailor or design suitable programmes for inmates and facilitate their operations and noted that the e-tracking system introduced by the Judicial Service would go a long way to address the cases of remand prisoners.
The Acting Chief Legal Officer recounted that one of the challenges facing the service was overcrowding noting the various prisons have not seen expansion over the years.
GNA
By Joyce Danso, GNA