AWLA Unveils Toll Free/SMS For Remand Prisoners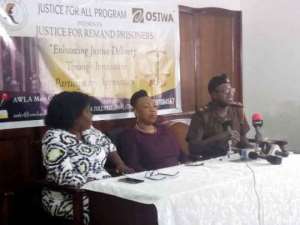 African Women Lawyers Association (AWLA) has launched a Toll-free/SMS platform that will enable remand prisoners, their relatives and friends to put across their complainants on remanded cases in four different languages.
Issues put on the platform (0307084567) would be collated and forwarded to stakeholder institutions in justice delivery in the country at no cost.
The Toll free platform, which is expected to track remand cases in all prisons and ensure timely response to issues affecting remand prisoners, could be accessed in Ga, Akan, Ewe and English language.
Mrs Betty Mould-Idrrisu, Chairperson of AWLA, who performed the launch, said the platform was expected to empower citizens to demand for justice for remand prisoners in the country.
According to Mrs Mould-Iddrisu, often times, citizens especially women did not have adequate knowledge of the law and they were sometimes frustrated by the long and cumbersome court processes.
She said the introduction of the Justice for All Programme (JFAP) launched in 2007, had brought a decline in remand cases in the various prisons.
The Chairperson of AWLA, however, noted that the JFAP had not seen maximum participation of the public, adding that, 'there is the need to educate, empower and mobilise Ghanaians to access justice.'
She recounted that some of the persistent challenges affecting justice delivery had been missing dockets, adjournments, absenteeism and lack of information of remand prisoners.
According to her, with the Toll free platform, citizens did not need to get a lawyer, adding, once a complaint was made, AWLA would address their concerns.
Mrs Edna Kumah, Executive Director, AWLA said her Association was targeting to reach out to eight prisons in the country.
Mrs Kumah said the Toll Free platform, which would be active for three months, formed part of AWLA's enhancing justice delivery through innovative Participatory Approaches project.
She indicated the project, funded by Open Society Initiative for West Africa (OSIWA), for this year, would end in April next year.
Chief Superintendent of Prisons (CSP) Amos Kwabena Antwi, Acting Chief Legal Officer, noted that since the JFAP started, remand prisoners population of 30 per cent had reduced to 13 per cent.
CSP Antwi said one of the challenges facing the prisons was overcrowding attributing that to lack of expansion.
GNA
By Joyce Danso, GNA