Sunyani MCE Hands Over New Abattoir To Butchers Association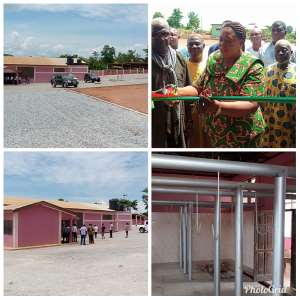 The Sunyani Municipal Chief Executive (MCE), Hon. Evelyn Kumi Richardson,has handed over new slaughterhouse to Sunyani Municipal branch of the Ghana Cooperative Butchers Association.
The new slaughterhouse which is Located at Asuakwaa, a suburb of Sunyani was constructed at a cost of about GH¢161, 000 by the Sunyani Municipal Assembly and inaugurated by formal MCE, late Hon. Kwasi Oppong Ababio, to serve Sunyani and its surrounding communities.
It was rejected by members of the Sunyani Butchers Association after inaugurated due to poor nature of the facility.
The new slaughterhouse which lacked facilities like,Toilet facility, Water and Bad road making movement difficult has now been addressed by Sunyani Municipal Chief Executive (MCE), Hon.Evelyn Kumi Richardson,which has made the facility safe to use and accepted by the Association.
Speaking to Space 87.7FM,Sunyani,Hon.Evelyn Kumi Richardson said, she promised to addressed the challenges after she find out that the facility has been rejected by the association due poor nature of it "so my outfit constructed Paving of precinct of abattoir ,8 Seater WC ,mechanize bolehole, retaining wall, U drains,car pack and visited stands" she stated.
"As it has been commissioned already by my predecessor Late Hon. Kwasi Oppong Ababio, (may his soul rest in peace), we are here to hand over the facility to Sunyani Municipal Butchers Association, after they have accepted to come here and I promised that my outfit would attend to their aid any time they call us".
The MCE thanked the Association for accepted to use the facility and urged them to make the facility neat.
Alhaji Baba Alhassan, alias 'One Man Thousand' the Public Relations Officer(PRO) for Sunyani Butchers Association, expressed gratitude to the MCE for addressed their challenges this time.
He promised that the members of the association would relocate to the new facility and stop operating from the old one after Ramadan period.
The event was attended by Municipal Coordinating Director, Development Planning Officer, the Butchers Association, Sanitation Officers and some Departmental Heads in the municipality.
The old slaughterhouse, situated at the Bosoma Market, has inadequate water while animals are slaughtered on the floor, with a poor drainage system that leaves the area emitting an offensive odour.
From this dilapidated facility, meat is conveyed in wheelbarrows and on trucks to the market due to the lack of hygienic vans.