'Well-disciplined Children Makes Good Leaders'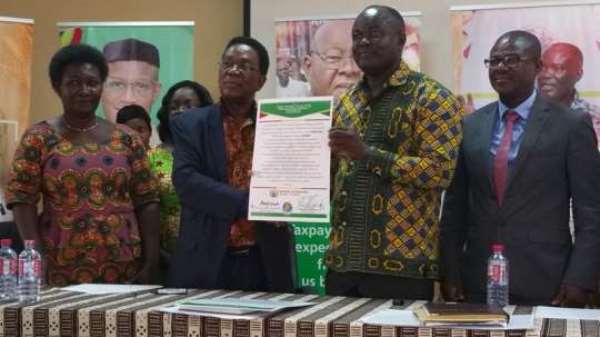 Mr Emmanuel Amarquaye, the Founder of Punctuality Ghana Foundation, has urged school teachers and parents to discipline their wards in order to build good future leaders for the nation.
He said there was the need for schools and homes to serve as disciplinary grounds for children in order to prevent Ghana from having uncouth ill-mannered persons as its leaders in the near future.
Mr Amarquaye who said this at a punctuality endorsement event at the Ministry of Education on Tuesday noted that the punctuality habit was only associated with disciplined persons, and so the country's education system must not only educate, but discipline students for all.
Mr Amarquaye also charged teachers to set good examples for students by being punctual, so that their students could learn from them.
'Nowadays, the trend seems to have changed. Instead of teachers checking students for lateness to classes, students are rather reporting teachers for lateness, and that spells doom for our future leaders, if they do not have punctual teachers to learn from', he said.
He encouraged the Education Ministry to put policies in place that would check and make sure teachers went to their classes punctually and left when they were supposed to and urged parents not to condone the wrong attitudes of their wards at home, as whatever their wards picked up at home, could be repeated when they grow up.
Mr Kwesi Yankah, the Deputy Minister in charge of Tertiary Education, speaking on behalf of the Minister for Education, said, time was a crucial resource to development, and it could be optimised, used, abused or under-utilised and ought to be valued.
He said the human resource base of any country, was important to the development of that country, and there was the need to get the country's human resource pool, to appreciate their time and Ghanaians and Africans had to change their concept of time, which he described as 'a stigma and stereotype in the name of African time'.
He said that concept of such valuable resource was derogatory and an embarrassment on the continent as a whole and urged the Education Ministry to employ biometric sign-in systems to capture the correct and un-fabricated sign-in time teachers arrive.
Mr Yankah, on behalf of the Education Ministry signed a pledge of punctuality to attend and honour all meetings on time, and encourage the habit of punctuality in the staff of the Ministry.
Ms Naa Meryeh Quaynor-Mettle, the Project Co-ordinator of the public endorsement of punctuality education, said her outfit's visit to the Education Ministry was the ninth endorsement of its kind and the country could not expect to compete in the global world without the consciousness of time and hard work that translated as productivity.
Ms Quaynor-Mettle noted that Ghana had to learn to measure punctuality in the light of productivity, growth, development, increasing government's revenue, and minimising corruption, as punctuality with discipline could achieve all those.