Controversial Facebook Post By Dr. Louise Carol Costs Her Job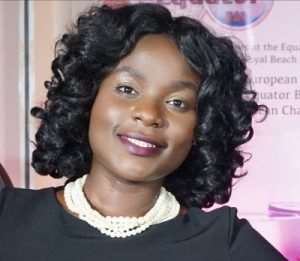 The Chief of Staff, Akosua Frema Osei-Opare, has directed a 30-day suspension of Dr. Louise Carol Serwaa Donkor over a recent comment she made on Facebook, which has been described as offensive by some members of the governing New Patriotic Party (NPP).
Frema Opare in a memo sighted by citinewsroom.com said the Policy and Communication Analyst's comment "sought to disparage a section of the Ghanaian society, a conduct which is unacceptable to this Office."
Dr. Louise Carol recently came under intense criticism from members of the New Patriotic Party (NPP) over a comment she made on Facebook.
A Facebook user posted last week that "As a general rule; I don't engage party footsoldiers!!."
Louise Carole in response to the post agreed with the opinion and said "you shouldn't reason with them. It's like tribalists."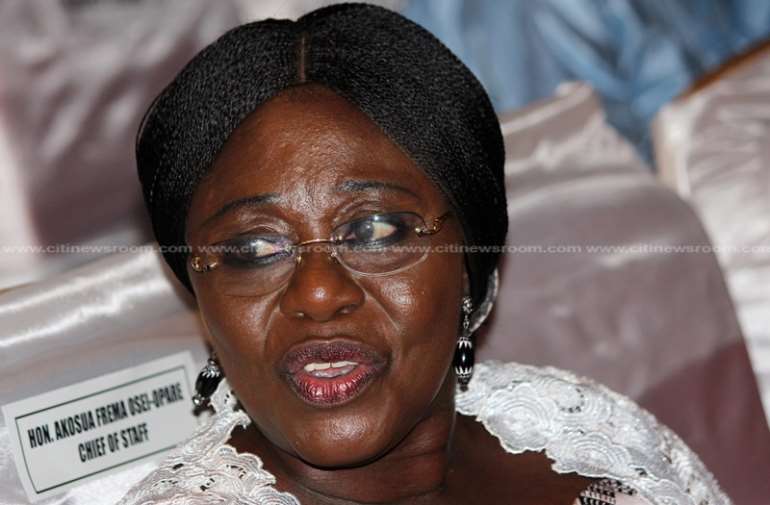 Frema Osei Opare
Scores of members of the NPP including footsoldiers and fanatics on social media, descended on the staffer, who eventually issued an apology for the comment. In her apology, she gave a long history of her loyalty to the party among other details which some considered unnecessary.
However, the Chief of Staff found it necessary to suspend her for her conduct.
The memo, which was written to Eugene Owusu, Louise Carol's boss, further directed that she is made to write an unconditional apology and commit to good behavior.
See the letter below: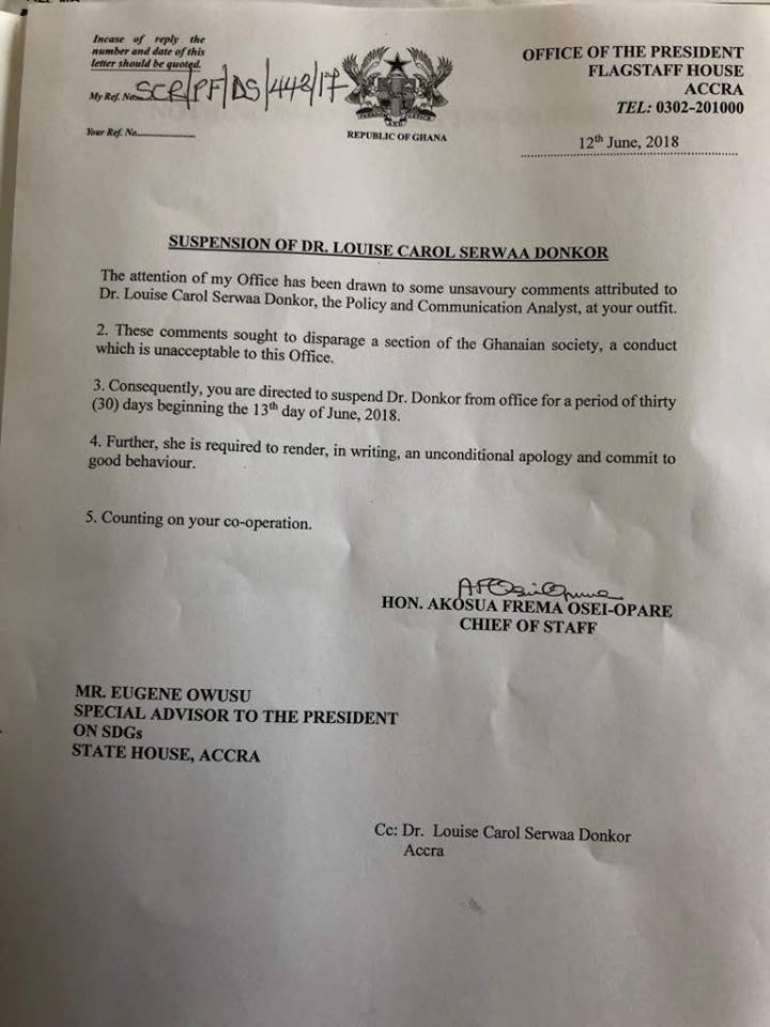 Scores of government officials have been challenged on different occasions on social media for various comments many deemed unsavory, however very few of them have seen sanctions such as being meted to Dr. Louise Carol.
Presidential staffer, Clara Napaga Tia Sulemana and former deputy Agric minister, William Quaitoo have both suffered a similar fate in the past.
Dr. Louise Carol is known as a voiceforous human rights campaigner, and is a founding member of feminist group, Pepperdem Ministries.