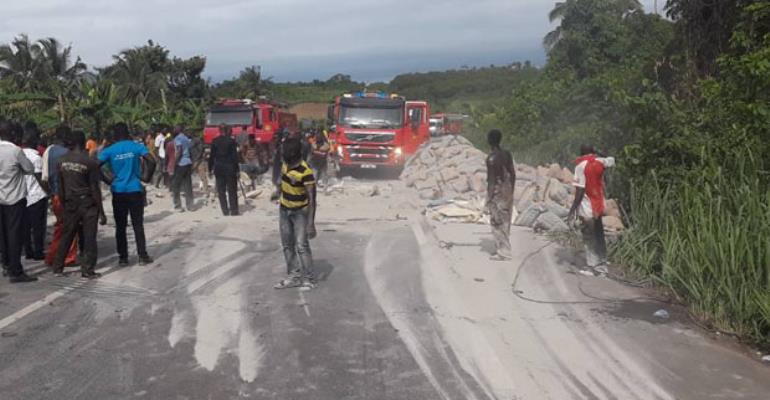 Seven persons were confirmed dead in a motor accident that occurred at Komenda Dominase on the Cape Coast-Takoradi highway on Saturday afternoon.
According to eye witnesses, the accident occurred when a Toyota Hiace moving from Cape Coast towards Beposo, in the Western Region, collided with a truck loaded with cement.
According to them, a Toyota Corolla, which also moving towards Beposo overtook another car in a curve while the truck loaded with cement from Takoradi was trying to avoid collision.
In the process, the truck collided with the Toyota Hiace also coming from the Cape Coast direction of the road, resulting in fatalities and injuries.
Eight other victims who sustained injuries were rushed to a hospital for treatment.
The eye witnesses asserted that the Toyota Corolla with registration number WR 452-12, was speeding and doing an overtaking in a curve at Komenda Dominase.
"It was a wrong overtaking by the driver of the Corolla and that vehicle caused the accident", one of them alleged.
The Western Regional Motor Traffic and Transport Department (MTTD) Commander, Chief Supt. Richard Appiah, told journalists that the accident occurred at Komenda Dominase at about 2:30pm on Saturday.
He indicated that three vehicles were involved in the accident.
The Toyota Corolla was heading towards Takoradi while a loaded cement haulage truck with registration number WR 2273-16 was heading towards Cape Coast.
The MTTD commander mentioned that in an attempt to avoid a collision with the Corolla which was doing the overtaking, the cement truck veered into the lane of oncoming vehicles. As a result, it collided with a Hiace "trotro" with registration number GE 4058-12.
From Emmanuel Opoku, Takoradi