Kwame Ntow Fianko Makes Sensational Revelations About Akufo-Addo's Relationship With GFA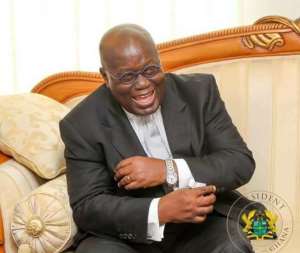 Top Ghanaian football lawyer Kwame Ntow Fianko has made a stunning revelation about the relationship between Ghana President Nana Akufo-Addo and the Ghana FA.
The experienced legal brain has revealed Nana Addo served as a lawyer for the Ghana FA 37 years ago.
Speaking to Ghana Sports Online Fianko revealed that the Ghana FA appointed the Ghanaian President as its lawyer during a lawsuit filed against it by Hearts of Oak in 1981.
Hearts took the GFA to court for banning the club's home venue – the Accra Sports Stadium, following a riotous behaviour by the club's fans during a league match on Sunday 29th March 1981.
Hearts went to court seeking justice. The capital club sought the court to refer the GFA to respect its own disciplinary rules.
Hearts fans went riotous in protest against officiating in a league game which ended 2-2 with Dumas, leading the GFA to shut down the Accra Sports Stadium.
Hearts asked the GFA to give them a fair hearing before they could ban them.
Nana Addo faced Hearts in court as lawyers of the GFA.
Justice J. H Korsah ruled against the GFA and asked them to give Hearts fair hearing per the constitution of the Ghana Football Association regulations.
Nana Addo has directed for the Ghana FA to be dissolved.