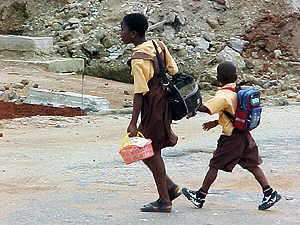 The Ministry of Education and Sports has banned all levies imposed on pupils in public basic schools. All metropolitan, municipal and district assemblies (MMDAs) which have byelaws authorising such levies are to amend them forthwith. The levies include PTA charges, sports and stadium fees, as well as laboratory charges.
The Minister of Education and Sports, Mr Yaw Osafo-Maafo, announced this when he addressed chief executives of the various government ministries, departments and agencies on the eve of the implementation of the capitation grants.
The minister said schools had been barred from charging such levies since the government was paying for all essential services. The government has projected ¢113 billion for this year as capitation grant.
Out of the amount, ¢70 billion, according to the minister, had been transferred to the various districts for the smooth implementation of the programme.
The government will pay ¢30,000 per child of school-going age under the grant. According to the minister, 50 per cent of children would be covered from today based on the 2004 enrolment figures.
He said the final enrolment figure for October this year was needed to enable the policy to cover a wider section of the children.
The minister said analysis by the ministry showed that 72 different levies were being paid by pupils in the name of developing or expanding certain facilities in schools.
He cautioned that heads of educational institutions that flouted the ban would be sanctioned. He explained that any PTA contribution to the schools would be welcomed but that should not be in the form of a levy that would restrict children from attending school.
Mr. Osafo-Maafo charged district assemblies to provide facilities for the schools.