Thousands put on anti-retroviral drugs at KATH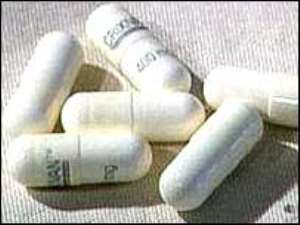 Kumasi, Sept. 12, GNA - Dr Anthony Nsiah-Asare, Chief Executive Officer (CEO) of the Komfo Anokye Teaching Hospital (KATH) Kumasi, has said since February 2004, 2,500 patients living with HIV/AIDS have been admitted at the hospital, and 1000 have been put on anti-retroviral drugs.
He noted that care and treatment of people living with HIV/AIDS has taken a new dimension with the availability of anti-retroviral drugs and that there was the need to acquire more knowledge and skills on the care and treatment of the therapy.
Dr Nsiah-Asare disclosed this at the opening of the first Regional Seminar for three English speaking countries in West Africa, jointly organized by the KATH, Action for West Africa (AWARE), Family Health International and the United States Agency for International Development (USAID) in Kumasi on Monday.
The seminar being attended by 20 participants selected from Ghana, Sierra Leone and Liberia, is aimed at collating views on the care and treatment of HIV/AIDS.
He said KATH in its efforts to become a centre of excellence has sought to improve the capacity of its healthcare workers to help improve services delivered at the Anti-Retroviral Therapy Centre.
The Chief Executive indicated that, KATH provides a comprehensive care package to patients in areas, which include voluntary counselling, management of opportunistic infections, tuberculosis control, care of HIV positive children and health education.
He hoped that the training seminar would help to impart the knowledge and skills to the participants towards the care and treatment of the disease, adding that, the participation of the neighbours from the Anglophone countries of the sub-region is an important step towards total integration of the ECOWAS sub-region.
Dr Agnes Dzokoto, Deputy Director of AWARE said the AWARE HIV/AIDS project is a regional project that covers 18 countries, made up of 15 countries from the ECOWAS.
Dr Dzokoto also said the AWARE HIV/AIDS project has chosen as one of its principal activities to provide opportunities for the exchange of experiences and lessons learned between countries through the identification and dissemination of successful experiences. She said the project has made active efforts to support the replication of selected "promising and best practices (PBP)" across the region.
The Deputy Director of AWARE announced that, AWARE has supported KATH to set up a training unit and provided facilities to ensure the success of the training programme, adding, technical and financial support would also be extended to other Anglophone countries to set up treatment sites in their home countries. 12 Sept. 05