S.Africa's Zuma graft case delayed by funding issue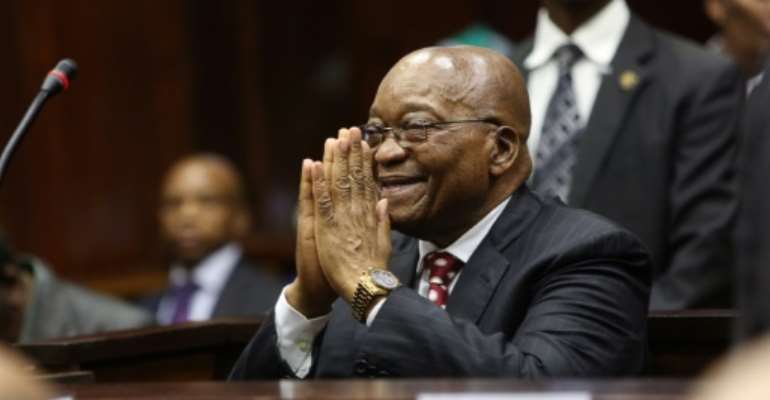 South Africa's ex-president Jacob Zuma appeared in court Friday ahead of a corruption trial, raising questions about ballooning legal costs before addressing adoring crowds outside who condemned his prosecution.
In front of Durban's stone-fronted High Court, thousands of Zuma supporters sang anti-apartheid struggle songs, flew flags bearing Zuma's face and chanted his name as he was swept into court flanked by tight security.
"We are not afraid to face this case," Zuma, who wore a dark charcoal suit, red patterned tie and white shirt, told supporters. "A person is not guilty until the court says so."
He sang and danced along enthusiastically to a rendition of his signature soundtrack "Umshini Wam", a campaign song from the apartheid era that means "Bring me my machine gun".
Police equiped with shields, water cannon and armoured vehicles mounted a major security operation outside the court, but the hearing and speeches were peaceful.
Zuma, 76, who was forced to resign in February, has been charged with 16 counts of graft linked to an arms deal from before he became president and is expected to face trial from November.
"It is very wrong to tell the people of this country that president Jacob Zuma is guilty before he has been judged," a firebrand speaker told the animated crowd. "We believe in Jacob Zuma."
Zuma is accused of taking bribes from French arms maker Thales over a contract worth several billion dollars during his time as a provincial economy minister and later as deputy ANC president.
Thales, which supplied naval vessels as part of the deal, also faces charges of corruption and a company representative from France appeared in court alongside Zuma.
'A matter of principle'
Zuma is accused of illicitly pocketing 4,072,499.85 rand -- 280,000 euros, $340,000 at today's rates -- from 783 payments handled by Schabir Shaik, a businessman who acted as his financial adviser.
After about 30 minutes of pre-trial legal discussions in a packed courtroom of the Durban High Court, Judge Mjabuliseni Madondo postponed the case to July 27.
"I'm here to support him because he's innocent until proven guilty -- he is not treated fairly," said Sandra Ndlamlenza, 43, who travelled to court to back Zuma.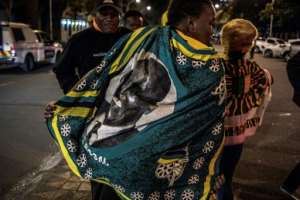 Zuma supporters sang and danced as they arrived for a night vigil ahead of his court appearance. By GIANLUIGI GUERCIA (AFP)
Zuma's legal team has sought to delay prosecution by arguing that the issue of his spiralling legal costs has not been adequately resolved.
Zuma has already spent 24.2 million rand of public money defending himself against corruption allegations linked to the arms deal affair, according to a government estimate.
Lawyer Billy Downer, for the prosecution, said an agreement had been reached to postpone the case to next month in the hope that by then there would be "answers related to his funding".
Judge Madondo adjourned proceedings to July 27, to Pietermaritzburg's High Court 80 kilometres (50 miles) west of Durban which is in KwaZulu-Natal province where Zuma, a Zulu speaker, enjoys strong support.
Zuma has sought to continue to receive state funding for his defence team but the main opposition Democratic Alliance (DA) party has gone to court to try to stop him using public money.
Zuma's lawyers have claimed that the DA's case should be heard before the corruption trial can continue. No date has been set down for that ruling.
Zuma's successor as president Cyril Ramaphosa has said he will abide by any court decision on who should pay Zuma's legal costs.
Zuma supporter Ntanto Dlomo, 33, said "the state must pay for his legal costs because he was vice president when all this happened".
"It's a matter of principle," she added.
Ramaphosa has vowed to crack down on government corruption, which he has admitted is a serious problem.
Campaign groups are hoping that the case could set a benchmark for allegedly corrupt leaders to face prosecutions, a rarity in Africa.