Northern Region reap the fruits of peace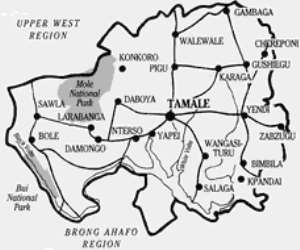 Accra, Sept.12, GNA- Through sustainable efforts to traverse the ravages of conflicts, a number of communities in the Northern Region are attracting local and foreign aid to raise the standards of living from the lowest ebb.
Zabzugu-Tatale District, which forms part of Dagbon where a protracted chieftaincy conflict led to the death of Yana Yakubu Andani II, the Overlord of Dagbon Traditional Area, three years ago, is one area where peace and stability had yielded dividend in the socio-economic lifestyle of the people.
Confident looking District Chief Executive, Alhaji Yakubu Bukari, told the Ghana News Agency in an interview that due to the peaceful co-existence among the mainly Dagomba, Basare and Konkomba ethnic groups, there has been governmental and non-governmental support in the area of health and education.
He said under the Canadian sponsored District Wild Assistant Project, a 630 million-cedi clinic had been provided for the Kpikpalgu and Kandin communities.
Alhaji Bukari said the Canadian International Development had also committed 700 million cedis for the provision of a school block at Nkalingbani and teachers quarters at Tatale. The district now has a health administrative complex, and 20- bed ward at the health centre, which had been upgraded into a polyclinic. Alhaji Bukari said this had reduced the number of referral cases to Yendi District Hospital.
He said the District Education Office had been provided with an administrative block, while a number of school blocks and furniture have been made available to the rural communities through the Social Investment Fund and the Highly Indebted Poor Countries (HIPC) funds. "The District Assembly has put up a well stocked district library, whilst guineaworm has been considerably reduced through the provision of boreholes in guineaworm endemic communities."
Alhaji Bukari said the control of the water borne disease was through the support of the HIPC fund, UNICEF, the Church of Christ, Ghana Health Service and the Northern Region Rural Integration Programme. 12 Sept.05