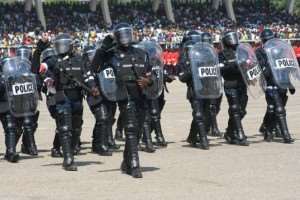 Two Community Police Personnel and a Police Officer have sustained injury after residents of Brewaniase in the Nkwanta District of the Volta Region besieged the Police Cells to demand the release of a suspected robber who was noted for terrorising the people.
The alleged robber, Abdul Razak, was arrested for his involvement in series of robbery activities at Brewaniase.
According to the Volta Regional Police Commander, DCOP George Tuffour, the Police upon a tipoff arrested Abdul Razak after he was seen breaking into a room to steal.
Items found on him included a filled cylinder, a rice cooker, chain saw machine, 16 mobile phones, a pair of trousers, a pair of shoes, a screwdriver and a hammer.

The youth who have been on a manhunt for the suspect demanded that he be handed over to them for mob justice.
The Police, however, refused and this infuriated the youth who began pelting stones among other objects they could law hands on at the police station and officers.
The scuffle, DCOP Tuffour said, resulted in the three officers getting wounded.
He said the police managed to bring the situation under control and restored peace to the area as the police continue its investigations on the suspected robber.