Togo's long-running political deadlock hits business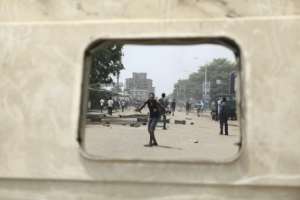 Seibou Issa sits in his shop for a meeting with his two employees. As usual since the start of the political crisis in Togo in September last year, business has not been good
"Trade is practically dead," he complained at his electrical store in the Deckon area of the capital, Lome, which is the economic driver of the tiny West African nation.
"My sales are down more than half because most of my clients are from neighbouring countries. Recently, they've been afraid to come," he told AFP.
A short distance away from Issa's unsold new fridges and cookers, Paul Azedjan is trying to sell telephones.
"It's really hard," he said. "Customers are few and far between and some suppliers are going to Benin and Ghana because we haven't got rid of the stock."
Deckon is home to dozens of shops, banks and the headquarters of major firms.
As a result, the government has tried, sometimes unsuccessfully, to prevent protesters from heading there in case their marches hit economic activity.
Budget cut
Since September last year, hundreds of thousands of people have taken to the streets across the country in support of opposition parties who want President Faure Gnassingbe to quit.
Gnassingbe has led Togo since the death of his father, General Gnassingbe Eyadema, in 2005. In all, the family has been in charge of the country for more than 50 years.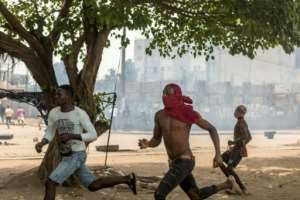 Will they run out of steam?. By YANICK FOLLY (AFP/File)
The government is playing a game of attrition and is banking on protesters running out of steam before the next elections in two years' time.
The strategy has been effective in grinding down popular support for the opposition but is harming economic activity in the longer term.
A study published in April by the Togo Chamber of Commerce and Industry (CCIT), saw 72 percent of 912 company bosses say they had seen second-quarter revenues drop by 25-50 percent in 2017.
An International Monetary Fund delegation that visited Togo in the same month also noted that economic activity had slowed because of socio-political strife.
The rate of economic growth was estimated to be 4.4 percent in 2017, down from 5.1 percent in 2015. This year, the IMF said it would be just under 5.0 percent.
On May 25, the government adopted a proposal to reduce the state budget this year by 1.0 percent because of the decline in fiscal revenue from the first quarter.
It justified the budget cut because of "the changing socio-economic and financial situation of the country... hit by violence that has negatively affected economic activity".
The political opposition this week announced a fresh wave of demonstrations, as talks with the government brokered by the presidents of Ghana and Guinea remained in deadlock.
Urgent solution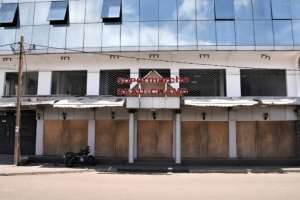 More and more shops are closing. By Matteo FRASCHINI KOFFI (AFP)
Veteran opposition leader Jean-Pierre Fabre has asked supporters to be "resolute, courageous and tough" but in Togo's markets, people said they were sad to see shops shut.
"Politicians should gauge the magnitude of the situation and quickly find a solution to this crisis," said Dede Maglo, who runs a computer distribution business.
She said she has lost 40 percent in revenue this year.
"To stay afloat, I've laid off three staff and dismissed all the trainees," she said. A third of Togo's eight million people already do not have enough work.
Afiwa Djissou, who sells cosmetics at Lome's main market, had to close two of her shops in the last three months.
"I brought all the stock from the main shop to cut overheads," she said. "I'm really worried because the atmosphere is not good."