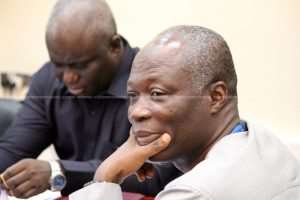 Former Minister of Youth and Sports, Nii Lante Vanderpuye believes the resignation of the embattled president of the Ghana Football Association, Kwesi Nyantakyi, is not the solution to the problems that bedevil Ghana football.
Nyantakyi has been urged to resign from his position with immediate effect byGhana League Clubs Association Chairman, Kudjoe Fianoo following revelations he took $65,000 from a potential Ghana Premier League sponsor.
He also suggested creating a third party company to act as intermediaries for the deal which will then charge between 20-25% commission on the sponsorship money.
The revelations were contained in an over 2-hour video investigation by journalist Anas Aremeyaw Anas which was premiered at the Accra International Conference Center on Wednesday.
Nii Lante, who was constantly at loggerheads with the GFA during his time at the Sports Ministry for not being "transparent and accountable", thinks Ghana football's problem is not with Nyantakyi alone.
"I think there must be a total cleansing of the Ghana Football Association. Let's solve the problem and stop talking about individuals," he told Bernard Avle on the Citi Breakfast Show.
"Do you think all these people who were not in the Anas video should be allowed to stay? All these agents working and using the Ghana Football Association, do you think they should be allowed to stay?
"The Anas video did not capture everybody. It captures the endemic problem we have in with our football.
"So if we are not careful, we may be scratching the surface. We need to solve the problem rather than focusing on individuals. Our football is sick, and we need to fix it," he said.
Nii Lante has also called for an immediate dissolution of the GFA by the government, even if at the risk of a FIFA a ban.
"Nigeria did it and now they are at the world cup and we are not," he said.
The GFA released a statement on Thursday in which they demanded that Anas serves them a copy of the video so they can initiate an internal investigation while promising they will not shield any indicted members of the association.