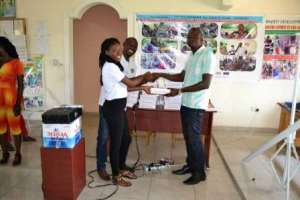 The Upper West Region Technical Support Unit of Ghana AIDS has presented 3,168 pieces of male condoms to support HIV campaign activities of Community Development Alliance (CDA), a local Non-Governmental Organisation (NGO), in the Region.
Provision of the condoms formed part of the Commission's commitment to support and sustain HIV awareness campaign trails undertaken by CDA to minimise its transmission.
Mr Dramani Yakubu, the Commission's Technical Coordinator for Upper West told the Ghana News Agency on the sidelines of a meeting with Models of Hope in Wa on Tuesday during which the donation was made.
The meeting was meant to engage Models of Hope Models - HIV positive persons who had dedicated themselves to support their peers at Antiretroviral Facilities - in the campaign proces.
It also sought to explore modalities to trace Persons Living with HIV and AIDS (PLHAs) that default in taking their medications - lost-to-follow-ups [HIV positive persons on medication but had evaded taking their medicines for some time.]
The Ghana Aids Commission, in line with the global agenda to end AIDS by 2030, is currently implementing the 90-90-90 target, which Mr Yakubu noted by 2020, 90 percent of PLHAs would have tested to know their status.
By that time, he said, 90 percent of persons tested positive should be on sustained medication while 90 percent of those on sustained medication should have attained viral suppression.
According to him, in order to achieve the second and third 90s, the Commission needed to trace all on-medication-defaulters and lost-to-follow-ups.
'When this is achieved, then we can say we are on the way to eliminating AIDS by 2030 as set out in the Sustainable Development Goal three (SDG 3),' he added.
It also meant, Mr Yahubu noted, the Commission would be on the way to eliminating mother-to-child transmission because all pregnant women would have discovered their HIV status, and those found positive put on medication.
Thus, the risk of HIV positive pregnant women transmitting the virus to their babies would be reduced to the barest minimum.
He added that if 90 percent of all PLHAs among the public achieved viral suppression, new infections would be reduced drastically, saying: 'When a PLHAs is virally suppressed, the risk of transmitting to another person becomes very minimal.'