Puma Energy Thrills Soccer Fans In Accra And Kumasi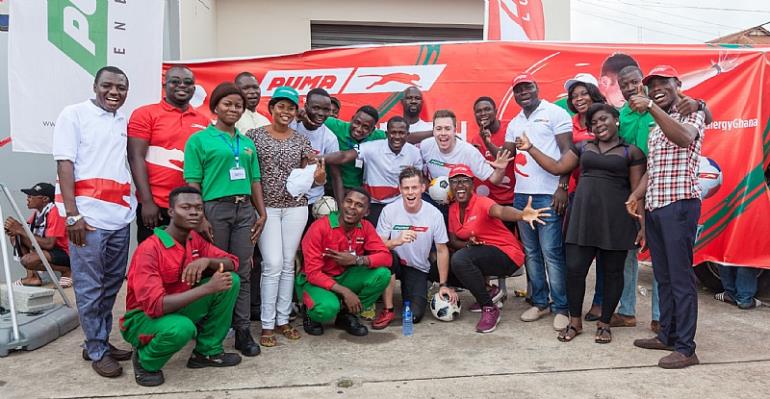 Puma Energy, as part of creating euphoria around this year's FIFA Would Cup, has held a football freestyle event in Accra and Kumasi to give football lovers something to cheer about.
To make the events more competitive, Puma Energy invited the Football Freestyle World Champion and eight-time Guinness World Record holder, John Farnworth to perform alongside some talented local freestylers like Joel Asare who performed breath-taking stunts.
The Managing Director of Puma Energy Ghana, Yahaya Yunusa, explained that the two events were meant to surprise and delight customers, as well as help them to share enjoyable experiences at Puma sites. It was also to "bring our local community together and to experience the impossible made possible, by meeting top-class performer John Farnworth," he added.
Yunusa further explained that since the World Cup is a couple of days away, the company needed to hype the tournament to enable its customers to also share in the excitement. "Ghana didn't qualify, but we refuse to be sad. So what better way to get Ghanaians in touch with their inner Ronaldinho than launching a football freestyle event!" he noted.
Patrons of the events believe it was a great platform for display of local talents. The MD in confirming this statement said "Ghana is full of talent, and we are glad to have displayed this while creating a great experience for our customers that goes beyond refuelling your vehicle."
Puma first started with a social media contest where fans submitted their own freestyle videos to win branded souvenirs. This was followed by the two main events. The first one was in Accra at the West Hills Mall to engage with people who may have otherwise never heard about Puma before, while the second one was in Kumasi at its Asafo fuel station.
Prizes for the events included Puma Energy products such as Visa-enabled Pumacard, and high quality Puma lubricants.
The two events provided a positive brand exposure for Puma Energy as it is relatively new to the Ghanaian market, so this gave people the chance to familiarise themselves with the Puma Energy brand on a personal level.
Puma Energy prioritises meeting the needs of Ghanaian motorists, businesses and communities through the provision of high quality, competitively-priced products and services. Aside its rapidly-expanding retail network with over 83 sites, the company has downstream offerings in aviation, business-to-business, lubricants, LPG and bunkering.